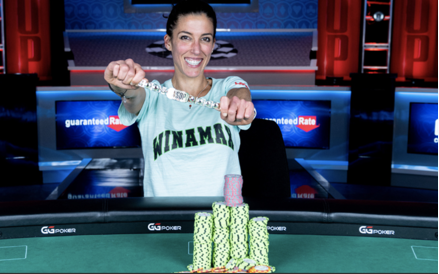 Leo Margets, the professional poker player from Spain, managed to win her first gold bracelet in a World Series of Poker event. She took part in Event #83: The Closer, which required a $1,500 buy-in, and managed to win a total of $376,850.
The event attracted a total of 1,903 participants, and Margets outlasted them all. More importantly, she became the second female poker player to win the WSOP 2021. She officially joined Lara Eisenberg, who won the Event #22: Ladies No-Limit Hold'em Championship.
Still, that was a closed real money poker event reserved mostly for women in poker, meaning Margets is officially the first to win a bracelet in an open-entry event.
The participants generated a prize pool of $2,540,505 and attracted some of the very popular names in the poker sphere, including Joao Simao, Yuval Bronshtein, Michael Wang, Chris Moorman, and even Ryan Riess, who topped the 2013 WSOP Main Event. In other words, it wasn't an easy task for Leo Margets, but she managed to remain the last player standing and take the lion's share from the prize pool.
Margets has a substantial poker portfolio. Perhaps one of the biggest successes was when she finished in 27th place in the WSOP Main Event in 2009 and won $352,832. She also took part in Event #73 in 2018, dubbed DOUBLE STACK No-Limit Hold'em, where she ended a runner-up. Leo Margets is also a member of Winamax Team Pro.
However, she secured her first gold bracelet by winning against a Bosnian poker professional, Alex Kulev, who had a significant chip advantage during the heads-up play. However, Margets managed to outplay him, so Kulev had to settle for the consolation prize of $232,920.
The Final Table Overview
The final table of Event #83 consisted of nine players, and the first one to hit the rail was Benjamin Underwood from Canada, who managed to win a total of $35,131. He was followed by Chris Moorman, a popular poker player from the UK, who snatched a $44,740 and hit the rail as eighth-placed.
The seventh-place was reserved for Aleksandr Shevliakov, a Russian poker player, who managed to win $57,525 for his effort. Shevliakov was followed by Cherish Andrews from the United States, who won $74,680.
Arturo Segura, also waving from the US, ended up in fifth place, winning $97,865. The next one in line to leave the game was Germany's Marc Lange for $129,460.
The last player to hit the rail before the heads-up could start is Stephen Song from the United States, who earned a total of $172,855 for his effort, leaving Leo Marges to face Alex Kulev in the heads-up.
This concluded another great and exciting WSOP event, and it was overall a very successful World Series of Poker tournament overall, as it returned to the live events, felt more popular than ever, and many poker players had an opportunity to win their first gold bracelet, including Leo Marges.