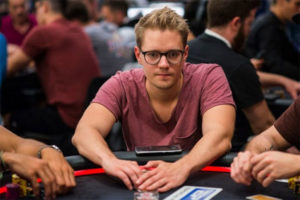 The 2020 Poker Masters took place online due to the worldwide live tournament cancellations or postponements caused by the coronavirus pandemic. Nevertheless, some of the best poker players around the globe signed up to take part in 30 events on the web.
The tournament wrapped up last Sunday, with Alexander Kolonias winning the purple jacket. However, the spotlight was stolen by Linus Loeliger, who managed to top the Main Event for $1,097,250. This was just another million added to the Loeliger's millions, as he has managed to win a lot of money as one of the best cash players at the moment.
The Main Event required a $50,000 buy-in, but that was nothing for the nosebleed cash professional that goes by the name "LLinusLLove" in online poker. Although it seems he won the event with ease, that wasn't actually the case.
As a matter of fact, Loeliger had to face some of the best players that play poker right now, including David Peters, Kahle Burns, and Steve O'Dwyer.
A total of 77 entries were recorded for the Main Event, and the final prize pool ended up being $3.8 million.
The Final Table — Who Made It to the End?
A total of eight players returned to the final table of the Main Event of the Poker Masters Online.
The first player to hit the rail was Kahle Burns, who won a total of $163,625. The popular Australian poker player has had a fantastic start of the year, as he managed to win the 100k Challenge, which was part of the 2020 Aussie Millions Poker Championship that took place in January.
The next one to hit the rail was yet another poker legend — David Peters. He won $182,875 for his effort. Peters has managed to earn more than $33 million by playing poker, with almost $6 million being from online poker.
Sixth place belonged to Elias Talvitie, who won $211,750. He was followed by Ole Schemion for $269,500.
The player who lost all chips on the fourth place was Steve O'Dwyer. He won $346,500 for his achievement on this event. The popular American poker player is currently located on the 10th place of the All-Time Money List, with more than $30 million earned by playing poker.
The last player to hit the rail before the heads-up part of the game could start was Chris Kruk, who ended the game with $519,750 in his pocket.
Finally, Loelinger had to face a player called Giuseppe Iadisernia, but he was no match for one of the greatest cash game players. That's why he had to settle for the consolation prize, which was $750,750.
Loelinger won the most money in 2020 Poker Masters Online ($1,511,818), but he was third when it comes to the total points, with Artur Martirosian and Kolonias having more points than him.