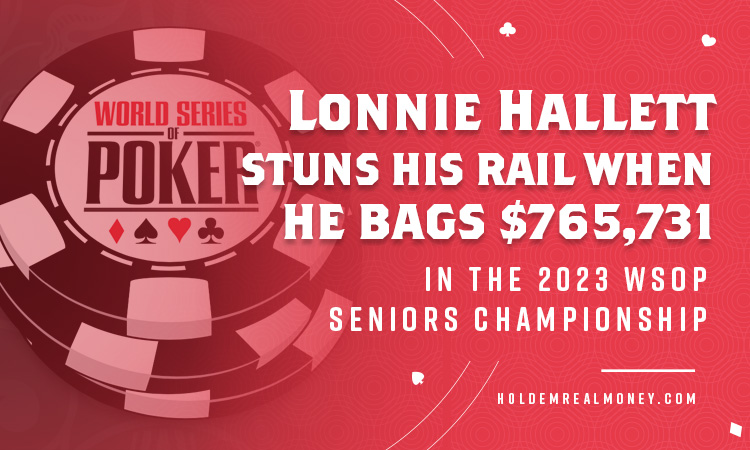 The 2023 World Series of Poker (WSOP) recently ended Event No.48: $1,000 Seniors No-Limit Hold'em. It attracted 8,140 players who formed a $7,280,200 prize pool. Yet, seven players advanced to the last day, each of them eyeing the $765,731 top prize.
Lonnie Hallett, a 54-year-old Canadian player beat Billy Baxter, a Poker Hall of Famer and seven-time WSOP Champion, to win the tournament. He stated after his victory that he didn't believe he had topped the large field.
What Did the Top Players Win?
Lonnie Hallett from Canada-$765,731
Billy Baxter from the U.S.-$473,212
Dan Heimiller from the U.S.-$356,166
Shannon Fahey from the U.S.-$269,841
Gordon Eng from the U.S.-$205,799
Loren Cloninger from the U.S.-$158,006
Rudolph Fourie from South Africa-$122,130
Ron Fetsch from the U.S.-$95,040
David Steans from the U.S.-$74,464
Hallett's Journey to Victory
The final day's first elimination took place after a short while. Rudolph Fourie used pocket fives to move in his last three and a half big blinds while Gordon Eng used a pair of nines to look him up.
Fourie got more hope after getting an open-ended straight draw. Yet, the fives didn't improve and gave Eng the pot as Fourie finished seventh with $122,130. Hallett used eight-four offsuit to raise in the big blind and small blind before getting the all-in pot.
Loren Cloninger used ace-two to go all-in while Hallett called. Still, the flop didn't connect to the two hands. But, Hallett got the lead from the turn eight as the river remained constant and ended Cloninger's run in the sixth position.
Baxter used ace-ten to go all-in against Hallett's ace queen. But, the former doubled up after a ten on the flop. Eng later finished fifth after a costly cooler.
Start Playing Online For Real Money!
Join our top-recommended sites for the best online poker experience.