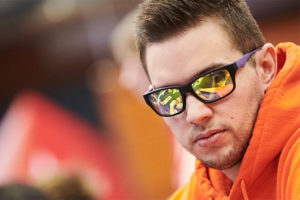 May 28 was the official 29th day of the Spring Championship of Online Poker. The entire festival offered $135 million in guaranteed prizes, along with many great events that attracted some of the best players in the world.
Some of them even managed to win a title in events they took part in. The 29th day belonged to the popular Austrian player, Matthias Eibinger, who managed to win the SCOOP-105-H.
Let's take a look at this event and how it played out.
SCOOP-105-H: $5,200 NLHE (6-Max, MIdweek Freeze High Roller)
This event was unlike many other SCOOP events in 2020 as it had the freezeout tournament, which means that once players went bust, they were not able to buy their place back in. Most online tournaments nowadays use the re-entry format, but freezeout ones can be pretty exciting as well, as more is at stake.
In other words, when you lose all your chips and hit the rail, it's over for you. Therefore, you have to be extremely focused and determined, as there's no second chance.
Things get especially interesting when you're playing a high roller event, and Matthias Eibinger is definitely the master of those. He has already managed to top the €50,000 High Roller back in 2018 at EPT Prague and in 2019 in EPT Monte Carlo.
Although the SCOOP event he took down wasn't really that big in terms of buy-ins and prizes, it's definitely just as prestigious. In other words, Eibinger, who goes by the name "iambest2" successfully took down another high roller event and received a hefty prize for it.
This event was a great way for the Austrian player to showcase what a true professional he truly is. Namely, he started the heads-up play with almost an equal number of chips as his opponent.
However, he managed to stay focused and calm throughout the intense action, only to emerge a winner in the end. It all paid off for him in the end, as he managed to win a total of $114,704.
Although this is nowhere near the amount of money he won in some live high roller poker tournaments, he still gets to brag about winning a high roller SCOOP title.
The player to hit the rail as seventh-placed was "Sepcpro_tect" from the Netherlands, who won $23,491. After that, it was time for "shuhpat" to hit the rail for $30,598, and Bruno "great dant" Volkmann ended up fifth, winning $39,853.
Fourth place belonged to "FouEnculePL" from Poland, who won $51,909. The last player to go bust before the heads-up was "Geokarak" from Greece, who won $67,612.
Eibinger's final opponent was a player from Denmark named Simon Ronnow Pedersen, who uses the online nickname "Igorkarkarof." However, the Danish player had to settle for second place and the consolation prize of $88,064.
This concludes another great high-roller SCOOP event, and Eibinger showed once again what a talented poker player he really is.