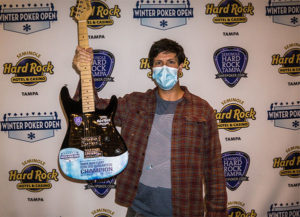 The 2020 edition of WPO (Winter Poker Open) took place at the Seminole Hard Rock Tampa. It was the first big real money poker tournament held in Tampa since the start of the COVID-19 pandemic. The series included 11 events, and all of them proved to be very popular, attracting many players to the felt.
The most important event of all was the $1,700 buy-in, $200K GTD Main Event, which attracted a total of 779 players, which is almost 500 players more than the last year. They managed to create a prize pool of $1,207,450.
Young Takes the Cake
One player had an opportunity to grab the lion's share of the prize pool — Max Young. He is a popular circuit grinder who has had a lot of success in various poker tournaments. This time, he managed to earn a total of $226,510, which is the second-largest amount of money he earned by playing poker, adding to his lifetime earnings of $1,941,679. Apart from the cash, Max Young won a guitar as a trophy.
Max Young has a lot of experience playing all kinds of land-based tournaments, especially those that are part of WSOPC. In fact, he has managed to win a gold WSOPC ring six times, including a victory in the 2018 WSOPC Choctaw Main Event, where he had an opportunity to make his career-high, winning a total of $263,815. Apart from Circuit events, Young also captured titles in MSPT, WPTDeepStacsk, Parx, Wynn, Chinook Winds, and Wildhorse Resort & Casino. In other words, winning first-place prizes was nothing new to the experienced poker prodigy.
The Main Event Overview
The final table consisted of seven players, and the first one to hit the rail was Romeo Mendoza, who earned a total of $37,890. Mendoza was followed by Phil Hernz for $45,605 and Darin Thompson for $56,497.
Finishing in fourth place was Fernando Rodriguez, who managed to earn $73,618, and the last player to hit the rail before the heads-up was Peter Walsworth, who ended his run with $102,211 in his pocket.
The last hand of the Main Event was played in Level 34 (150K/300K/300K) when Young decided to limp the button with an A-J suited in his hand. His final opponent was Edgardo Rosario, who had treys in his pocket. Rosario decided to go all-in, and Young had to think for a while before deciding to call. The board ran out K-8-7-J-J, giving Young a three-of-a-kind with Jacks, which meant that he won the tournament, and Rosario had to settle for the consolation prize of $158,828.
Of course, Young wasn't the only player to take the first-place prize home, as there were several other events. The entire series attracted a total of 2,774 entrants, and a total of $1,793,235 was distributed in prize money. Eight different winners had an opportunity to receive the biggest share of their respective prize pools.