Online poker cardroom PokerStars recently confirmed that its player pools in Michigan and New Jersey will merge on January 1, 2023.
Several weeks ago, the company announced that the two states would combine at a future date but verified on Friday that interstate play would begin at the start of the new year.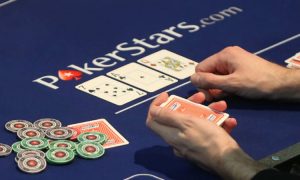 PokerStars becomes the second interstate online poker provider in the country, along with WSOP/888poker, which joins together sites in Nevada, Delaware, and New Jersey.
Delaware players can play on one of the state's casino-linked sites on 888's platform but can't participate in WSOP events like players in Nevada and New Jersey. PokerStars is unavailable in Delaware or Nevada, which is why they're not included in this merger.
A Better Experience For Players
The idea behind the PokerStars merger is to offer bigger prize pools and help grow the industry throughout the country.
PokerStars U.S. managing director Severin Rasset released a statement saying, "Michigan and New Jersey joining forces is great news for our players in these two states, and poker, more generally, as it promises a better experience and even more value, all with the confidence provided by a trusted, licensed operator."
To celebrate the merger, PokerStars has announced a $100,000 guaranteed tournament on January 1, which players in Michigan and New Jersey can join for a $100 buy-in starting at 6 pm ET.
This will be followed 30 minutes later by a $50,000 guaranteed tournament with a $10 buy-in to add to the excitement. Participants from both states can begin registration as early as December 27.
Online Poker Continues Comeback
The online poker industry is still recovering after the U.S. federal government stopped the activity using the Wire Act of 1961.
The event, known as Black Friday across the industry, banned online poker nationwide in 2011 unless individual states created legislation to legalize it. This was a massive blow to the industry, drastically reducing the player pool to individual states.
Regulators, lotteries, and other essential industry figures then took action against the DoJ after, in 2018, it sought to expand the Wire Act to all forms of online gambling. The New Hampshire Lottery won a case against the DoJ in district court in 2019.
This was followed by global gaming giant IGT's courtroom victory over the feds last September over the proposed expansion of the Wire Act. Both cases provided more clarity for expanding online poker and led to the recent move by PokerStars.
Although legal online poker has been available for more than ten years, just four states are part of the Multi-State Internet Gaming Agreement (MSIGA). WSOP.com is available in Michigan, but WSOP/888 still hasn't combined with the other states.
Pennsylvania has WSOP.com, Pokerstars, and BetMGM available, but players there remain isolated because the state isn't part of the MSIGA.
BetMGM also offers poker rooms in New Jersey and Michigan, including the Partypoker brand, but doesn't yet have plans to combine player pools from the states. However, BetMGM is undergoing a significant poker software upgrade, which could indicate plans to merge the states soon.