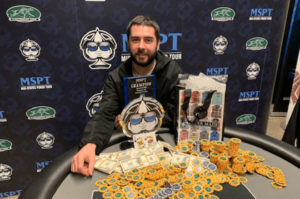 The 10th season of the Mid-States Poker Tour, which took place at Canterbury Park in Minnesota, wrapped up with the $1,100 Main Event coming to an end. There was a total of $500,000 in guaranteed prizes, and 802 entries applied for the tournament, creating three starting flights. 
After Day 2, Anthony Dunne managed to emerge on top and win the first-place prize of $155,288.
Dunne seems pretty new to the game of live poker as there are no documented cash wins for this young player on HendonMob. However, he had a great run and even faced some serious opponents in the final table.
 
Road To The Final Table For Dunne
Some of the people at the final table were former MSPT champions, and two of them were players of the year in the past. Nevertheless, Dunne managed to outlast all of them and emerge the winner.
The second day of the tournament was pretty exciting, as 105 players returned to test their skills and luck. However, not all of them were able to make it to the pay list, as only the top 81 players had an opportunity to receive a slice of the prize pool cake. 
Players Left With No Cash Prize
In other words, 24 players had to face the fact that they would also leave the event with no coin in their pockets. Some of the players who did not make it to the money list but are popular names in some poker communities include players such as Kou Vang, Ahmed Taleb, and Brian Zupancich.
Moreover, there were players who made it to the money list but failed to make it to the final table. Some of them worth mentioning are: Phil Mader, Jonathan Kim, Rob Wawaz, Luke Vrabel, Brandon Temple, Derek McMaster, Mike Shin, Bill Kachel, John Reading, and Craig Trost.
Mid-States Poker Tour Final Table Results
A total of 10 players returned to the final table. Here is how the final table wrapped up, as the players started dropping out.
The first one to lose all of his chips was Peter Kuertsky from Minnesota, who managed to win a total of $11,569.
He was soon followed by a player named Chan Pelton from Texas, who earned $13,967 as the ninth-place player in this tournament.
Ian Matakis, another player from Minnesota, ended up eighth and earned $17,858.
Only to be followed by Yevgeniy Minakrin, also from Minnesota, for $23,293.
Sixth place was reserved for Andrew Johnson, who managed to earn $30,281.
Josh Damm ended up fifth for $39,598.
Steve Wilkie from Arvada, Colo., earned $51,944 as the fourth-place player.
Aaron Johnson from Red Wing, Minn., followed him soon after that for $69,502.
Heads-Up Battle For The Victory
As soon as Johnson left the game, Rich Alsup and Dunne started their heads-up battle. Alsup was a former MSPT Meskwaki champion, so he was a big favorite before the heads-up. 
However, Dunne already had a big chip lead at the start of the last part of the tournament and did not take long to wrap things up.
| Place | Player | Prize |
| --- | --- | --- |
| 1 | Anthony Dunne | $155,288 |
| 2 | Rich Alsup | $95,502 |
| 3 | Aaron Johnson | $69,880 |
| 4 | Steve Wilkie | $51,944 |
| 5 | Josh Damm | $39,598 |
| 6 | Andrew Johnson | $30,281 |
| 7 | Yevgeniy Minakrin | $23,293 |
| 8 | Ian Matakis | $17,858 |
| 9 | Chan Pelton | $13,976 |
| 10 | Peter Kuretsky | $11,569 |