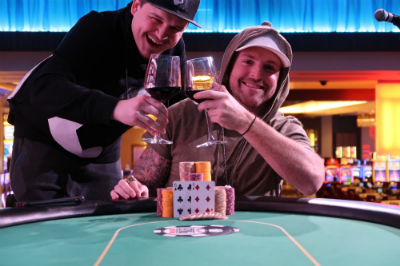 Mike Jukich of Lynchburg, Virginia was playing his weekly home game and had no plans to enter the World Series of Poker Circuit at Horseshoe Baltimore. That is until his friends offered to stake him most of the $1,675 buy-in. It proved to be a sound investment as Jukich won the no-limit Texas hold'em circuit stop to the tune of $136,438.
The win also included his first gold ring as well as a seat in the 2018 Golden Casino Championship. Not bad considering all he had to do was drive four hours north and play poker with other people's money. Well, maybe it wasn't that simple.
"It was last minute that I even decided to come. I was playing back in Lynchburg and I got the okay to come up here and play. They were gonna take action in me. They believed in me and I was pretty confident in myself," Jukich said.
The 513-entry field was a stacked event featuring a five-time ring winner in Loni Harwood, Blake Whittington of Jacksonville, Omaha's Ryan Phan, 2nd place finisher Jeremy Stein as well as Sweden's Peter Eichhardt. The $769,500 prize pool was one of the largest on the circuit this year.
Jukich's first day was far from simple.
"I wanna say I got off to a good start, but I hit some bumps in the road. Then I doubled up, and I doubled up again. Actually, the guy at the table, he doubled me up twice. We were joking that I owe it to him that I'm still around in the tournament."
The second day was much easier for Jukich. Late in the day, Jukich drew pocket kings against pocket queens in a huge pot. His hand held up and he was even able to take the chip lead at one point shortly after that. He would finish Day 2 in second behind Jeremy Stein and find himself at the final table.
His time at the final table was well-played and well-timed. He did not eliminate a single player until the final three. He only found himself all-in once. Then, once down to three players, Jukich had jacks versus pocket nines for a good pot. His hand held and he won almost every pot from then on. He eliminated the 3rd place finisher James St. Hilaire with an ace-jack versus a nine-ten suited and walked away a winner after he played a flip for it all against Jeremy Stein.
His friends from his Lynchburg game were there to celebrate with him. All of them good friends and good card players.
"Alex Rocha, Asher Conniff, Joe Liberta. They are like my main guys that I talk a lot of poker with. They've kind of taken me under their wing and showed me a ton about poker. I look up to them."
After a life-changing weekend, it's safe to say Mike Jukich has some pretty good friends.