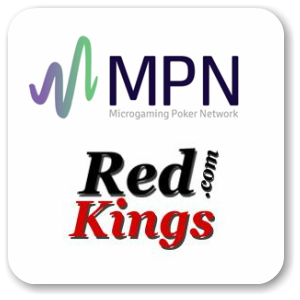 Microgaming Poker Network (MPN) has signed an agreement to deliver its proprietary software to RedKings Poker, which was an international site formerly on the Ongame network. The new online poker operator will go live on the MPN in the next few days, and joins other skins on the network, such as BetSafe and Betsson among many others.
Improved Tournament Schedule Now That RedKings Is An MPN Skin
RedKings Poker now will be able to offer a wide variety of poker tournaments at all buy-in levels, which is definitely one of the strong points of this online poker network. It will also encourage increased liquidity, as players on the network will benefit from MPN's shared player pool.
MPN's Traffic Has Been Surging
Microgaming's poker traffic has been growing, and the traffic is not just found at the tournament tables either, with the cash game tables featuring plenty of action. In fact, in August this year MPN's cash game traffic surpassed iPoker for the first time since 2007, and has been rising steadily despite ring game traffic at the biggest poker networks declining.
This can be attributed at least to some extent, to the addition of two major online poker rooms to the network – PKR Poker (which still retains its award-winning 3D poker client) and Grosvenor Casinos. The network has also focused more on recreational players, allowing them to frequently change their table names so the sharks can't target them.
In addition to offering poker, the site will offer more than 100 casino side games that can be accessed within the online poker client. These side games include popular online slots titles such as Avalon and Thunderstruck.
Microgaming Director of Network Games Jean-Luc Ferriere said:
"It's great to be adding another well-known poker brand to the MPN. RedKings are joining a growing and healthy network that is committed to the player experience, offering a raft of exciting tournaments and thrilling promotions. Welcome to the MPN, your new home."