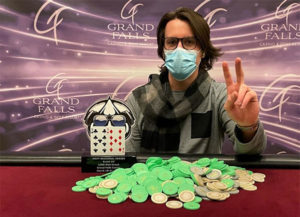 Grand Falls Casino in Iowa was once again home to the Mid-States Poker Tour (MSTP). The casino is one of the most popular facilities in the area, located close to Sioux Falls, South Dakota. The primary event of MSPT was the $360 Regional Event that attracted 794 entries and lasted for three days. The top 113 players managed to make it to Day 2, all of them ready to claim the main title.
After 12 hours of intense poker action, a player named Eric Atchinson managed to emerge on top and win a total of $46,020, which was his first-place prize. However, Eric Atchinson is not new to the feeling of winning MSPT titles, as this was his second MSPT Grand Falls Regional title.
Eric Atchinson started the final day of the event with 121,000 in his stack and continued grinding until the field narrowed down to the top 12 players. This is the time when he started playing very aggressively and managed to make it to the top four when it comes to stack size.
In the final table, he eliminated three out of eight remaining competitors, which eventually helped him become a winner in this tournament and claim his second MSPT title. The last time he topped a $360 Regional Event, he managed to win a prize of $22,457.
Day 2 —- Action Overview
The 113 remaining players who made it to Day 2 narrowed down to just 81 in about an hour of play, with Paul Cross bursting the bubble. Some of the players who made it to the money list but failed to reach the final table were Paul Camby, Mark Fink, Swadeep Mishra, Lisa Simone, and Justing Rustvold, who had started Day 1b as a chip leader.
Abraham Garang was a Day 1 and Day 2 chip leader, and he was on a great roll but eventually had to leave the game as 25th-placed, winning a total of $1,334. The last three players who left the game before the heads-up were Bridgette Field, Tremayne Blue, and Ken Pates.
The first player to hit the rail in the final table was William Reynolds for $4,141. He was soon followed by Curtis Vierstraete, who managed to win $5,291, and Lawrence Vigil, who won $6,902.
The sixth place was reserved by Darnell White for $8,972, and Terence Reid left the game as fifth-placed, winning a total of $11,733.
Jason Lich ended his run in fourth place, earning $15,391 along the way. The last player to hit the rail before the heads-up duel was Chris Moen, who snatched a total of $20,705.
The heads-up match lasted for 15 minutes only, as Daryl Oppelt was no match for Eric Atchinson, who already dominated the final table. Therefore, Daryl Oppelt had to leave the game as a runner-up, receiving a consolation prize of $28,297, whereas Eric Atchinson had an opportunity to claim his second MSPT title and prove his excellent poker skills once again.