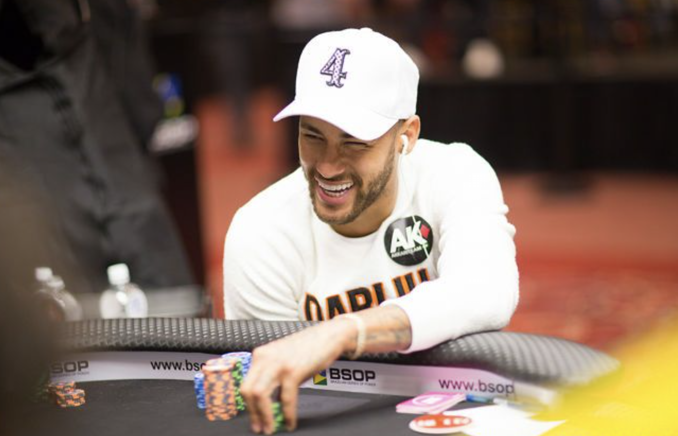 It's not unusual to see celebrities yearly at the World Series of Poker (WSOP). This year, soccer superstar Neymar Jr. played in his first tournament in the event this week.
The Paris Saint-Germain forward and Brazilian national team star entered the recent $10,000 Event #26 Limit Hold'Em Championship. He later hosted a "Neymar and Friends" cash game at Bally's in Las Vegas. Neymar is an avid real money poker player and qualified for his seat in 2016 after playing in a WSOP 2-table satellite tournament.
This is the first time the legendary striker has competed in a gold bracelet event and was one of many celebrities in the field of 92 players. Although he failed to cash or reach Day 2 of the tournament, he did show that he's not afraid to get right in the middle of the action and played a lot of hands while battling to win every pot.
Neymar Has Hot Start To the Tournament
Neymar started hot and beat his opponent's pocket Ac Ad in the first hand of the day by making two pair with his hold cards of 8s 7h. He paired his eights on the flop and got another seven on the turn to make his two pair while his opponent got no help.
The river card was a king and both players checked. They turned over the cards to reveal the winning hand, and Neymar collected 11,000 chips for his first win of the day.
He increased his starting 60K chip stack to 90K before falling down to 15K and losing the rest of his chips during Level 6 when the blinds were 800-1,500 and the bet limit was 1,500-3,000.
Each level is one hour in duration, which means he hung around for more than five hours against the professionals at this tournament. He finished the tournament 58th out of 59 listed entrants.
Participation By Neymar is Huge for International Poker
Neymar was signed by PokerStars to become a Cultural Ambassador to help get in touch with a wider international audience. There aren't many people that could accomplish this, like the 30-year-old soccer star, who is considered by many to be one of the most recognizable athletes in the world.
He was definitely the biggest global star to play at the event this year. Neymar has more than 57 million Twitter followers and millions more fans worldwide.
He has played in many international events through PokerStars. His best finish of sixth place came in the Brazilian Series of Poker, earning him more than $21,000.
Neymar first became serious about poker during the World Cup in 2014. Although he may just be starting his career as a poker player, his career on the field could soon go in a completely different direction.
His current club is reportedly open to all bidders that may be interested in buying his contract. Neymar has been battling injuries since his transfer from FC Barcelona and failed to win the Champions League title with his new club this past season.