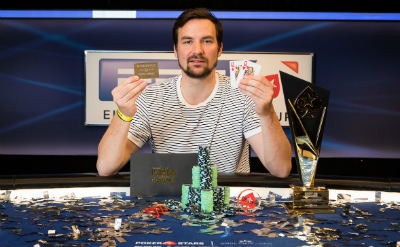 This year's European Poker Tour greatly differs from previous EPTs, in that many new players reached the final table and showed an exceptional high-quality game during the Monte Carlo Main Event.
The story of a brave non-professional player still inspires many beginners and even experienced players. An auto instructor from France, Nicolas Dumont, probably won one of the most challenging EPT stages of the season – EPT Monte Carlo.
Monaco has always been considered a high-rise harbor, which is already seriously increasing the competition among the players. On top of the fact that the three best players of the world, Ole Schemion, Patrik Antonius, and David Peters reached the final table, made the final table extremely hard to play.
Despite all the competition, stress, and relative inexperience, Nicolas Dumont was showing a great game. Indeed, to overcome the constant tension during the driving lesson is much harder than playing poker, but to play well constantly is a really serious, professional feature.
An Interesting Offer to Play
Interestingly, Dumont did not even think about playing this tournament but participated in it after the suggestion of his friend, a rather advantageous offer. Julien Perouse, who won the PokerStars Turbo Series Main Event, came to Monte Carlo for several early tournaments but had to leave before the event started. Perouse knew that Dumont did not usually play big money poker championships, but he believed in Dumont's talent, and that recouped entirely.
To play the tournament, Dumont even canceled the lessons for three days.
Although that was a coin-flip, which gave many odds to Ole Schemion after the flop, Dumont's A8s knocked out the high roller legend, leaving him an 8th place finish (€68.300).
Heads Up at Final Table
At a heads-up, Nicolas Dumont was a bit ahead of Honglin Jiang, who had fewer chips. The game lasted not long, and chip leader went on growing his stack. Not long after playing 15 hands, Dumont met with Jiang going all in. Having QQ, Dumont quickly called Jiang, who had 66. The board was full of overcards, so Nicolas Dumont won his first EPT.
Quite interesting is whether he is going to return to work at all, because now he has the EPT title, €712.000 in cash, and the PokerStars Players NL Hold'em Championship (PSPC), which includes:
$25,000 entry to the PSPC event;
Six nights' accommodation at Atlantis Resort, Nassau, in The Bahamas;
$2,000 in food and beverage allowances.
Dumont Gained More Than Just Money
As a winner of the tournament, Dumont got 1824 POY points. This win brought him to 25th place in the "2018 Card Player of the Year" rankings. Peters earned 912 POY points for the fourth place and took sixth place in the overall ranking, while Antonius moved into 13th place.
It is also necessary to admit that some other amateurs showed that they have both personality and a good poker game.
The qualifier from the $5 satellite Christian Gyorgyi not only won €184.000 (5th place) but also became the hero of active discussions regarding his brave decision at the final table to play 72 against Tomas Jozonis with AK. Amazingly, after betting pre-flop and flop, Gyorgyi went all in, and Jozonis had nothing to do but fold.