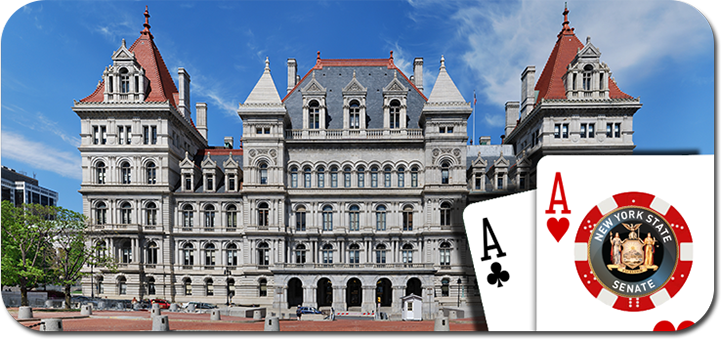 Good news for players in New York, as the online poker bill made it passed the Senate Finance Committee on Thursday, and has gone all the way to the state Senate. This bill will once and for all legalize and regulate the online gameplay of the popular card game. New York is one of the top coveted states to legalize any form of gambling, as the population of players is much higher than in most other states.
Few More Steps to Online Poker Reality
Now that the bill, S5302B, has passed to the Senate floor, there are just a few more hurdles it needs to pass through in order to get signed into law. It is incredible how fast the bill has been approved, with the matter voted for in a huge majority.
Senate Finance Committee: 20-8
New York Senate Racing, Gaming and Wagering Committee (NYSRGWC): 9-0
The bill was put in place by Senator John Bonacic, who is also the chair of the NYSRGWC. This will be an important step toward regulating online gaming in the state, and with it comes to a few cautious supporters. Sen. Liz Kreuger was supportive of how well the bill was doing but was also cautious enough to propose a public hearing. This would allow the community to voice its opinions whether online poker is truly welcome or not.
Casinos Stand behind Bill
There are plenty of brick-and-mortar casinos around the state and the United States that are happy to see that this regulation is so close to becoming reality. For instance, MGM Resorts International expressed their optimism about having a,
"Future of online poker and its popularity in New York." And how the committee supports the creation of "a safe, legal environment."
With the recent very successful launch of PokerStars in New Jersey, and seeing what a positive impact it has been on legal poker, as well as benefiting the state, New York, and other states are strongly considering this next step. It would contribute millions of dollars in taxes, grant websites the chance to legally operate within the state, and give a safe and secure environment for players.
Being one of the large gambling markets, New York could definitely pick the best online poker operators to cater to their residents. Once the bill gets signed into law, it will be open season.