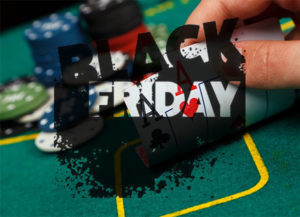 It's been a decade since one of the worst events for online poker took place. It is known as Black Friday by the poker community, and online poker players recently "celebrated" this event that almost destroyed the entire industry.
On Black Friday, the US government interfered in online poker and seized hundreds of millions of dollars in players' funds, making many players lose most of their money. Since then, the industry had to be reinvented. It went through some really drastic changes, evolving into online poker that we love and play nowadays.
Many sites and online poker players from that era have fallen to oblivion. If you started playing poker after 2011, most of these platforms and players are not familiar to you. That said, some are still doing pretty well, including Erik Seidel and Daniel Negreanu.
There are all kinds of perspectives on what happened that Friday that was so bad that they had to give it a name. To older online poker players, Black Friday is never associated with the shopping mania after Thanksgiving. Instead, it's associated with the day that online poker died and was reborn after that.
What Happened on April 15, 2011?
On April 15, 2011, the US Government decided to intervene in illegal online poker operations. Back then, poker wasn't allowed to take place online in almost every state, and one of the ways to put an end to it was to seize all the funds that were currently on the platform.
Steve Badger, a WSOP bracelet winner, was one of the people working for PokerStars, which wasn't legal back in the day. He stated that the employees knew exactly what could happen one day and that he hadn't been really shocked by the events that took place on April 15, 2011.
As a matter of fact, some people from the industry, including Badger, were quite aware that such an "attack" could take place at any time.
However, the majority of people from the industry were shocked. Apart from poker players, there were plenty of industry workers, including developers, managers, writers, marketers, and more, who were making a living from the online poker industry.
The seized money has never been returned to players. Some players decided to build their previous bankroll bit by bit, while others gave up on poker completely and sought their vocation elsewhere.
On the other hand, the US online poker market was completely destroyed. It also had to be rebuilt, with some platforms, including PokerStars, still operating successfully.
Some people were indicted on charges — 11 of them to be precise. All of them were the leading people in the industry who had their online poker platforms.
However, apart from paying millions of dollars in penalties, which was suggested by the government, many of them got out with several thousand dollars in fines, and some even decided to serve some prison time — we're talking days. Some of these people are still in the industry and doing pretty well.