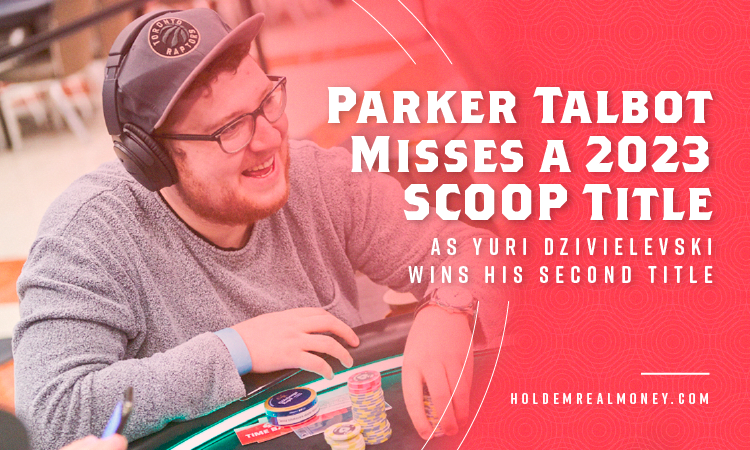 Parker "tonkaaaa" Talbot narrowly lost a 2023 PokerStars Spring Championship Of Online Poker (SCOOP) title. They finished sixth in the $10,300 No-Limit Hold'em Progressive Knockout Thursday Thrill.
The event attracted 82 players who created an $820,000 prize pool. It began on May 18 and lasted for two days.
Generally, SCOOP participants rest on Fridays. So, the 11 remaining entrants resumed playing on May 20.
What Were the Top Nine Finalists' Prizes?
Elias "SinKarma" Gutierrez from Japan – a $205,563 total prize; $118,750 bounties and a $86,813 prize

PAX176 from Poland – a $137,438 total prize; $50,625 bounties and a $86,813 prize

Simon "C. Darwin2" Mattsson from Sweden – a $71,538 total prize; $13,125 bounties and a $58,413 prize

Pavel "silentm0de" Plesuv from Andorra – a $80,103 total prize; $35,000 bounties and a $45,103 prize

Juanki "B4NKR0LL3R" Vecino from Estonia – a $48,576 total prize; $13,750 bounties and a $34,826 prize

Parker "tonkaaaa" Talbot from the United Kingdom – a $31,890 total prize; $5,000 bounties and a $26,890 prize

Eccentric_BG from Bulgaria – a $27,013 total prize; $6,250 bounties and a $20,763 prize

ContraSpemSper0 from Ukraine – a $32,282 total prize; $16,250 bounties and a $16,032 prize

dimiangelako from Greece – a $19,311 total prize; $6,250 bounties and a $13,061 prize
Day 2 Highlights
Joao "Naza114" Vieira and "Stumpfed" got busted early on Day 2. The former's exit from the event set a nine-handed final table. dimiangelako was the first finalist to leave the table.
ContraSpemSper0 and Eccentric_BG followed them in eighth and seventh place respectively. Talbot was sixth in the chip standings when the day's action began. Yet, he left the tournament in sixth position with $31,890.
The streamer later won $10,086 in the SCOOP 64-H: $1,050 NLHE 6-Max after finishing seventh. Vecino's run ended in fifth place, Plesuv finished fourth and Mattsson exited the tournament in third place.
Mattsson's elimination set heads-up action between Gutierrez and PAX176. The final bounties were worth over $110,000. Gutierrez defeated PAX176 and took home$205,563.
Yuri Dzivielevski Wins Another 2023 SCOOP Title
Dzivielevski recently bagged $205,131 in the $10,300 Super Tuesday. Yet, he won another 2023 SCOOP title in the SCOOP 82-H: $5,200 PLO 6-Max High Roller after defeating 59 opponents.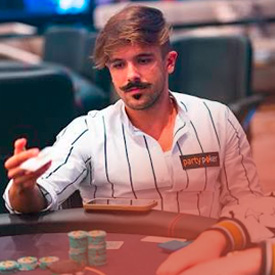 The Final Table's Payouts
Yuri "theNERDguy" – $93,217

WhySo€erious -$64,513

WRUUUUM -$44,648

jokee_apart -$30,900

Christian "WATnlos" Rudolph – $21,385

Sami "Lrslzk" Kelopuro -$14,800

Patrick "pads1161" Leonard -$11,459
Leonard was the first finalist to leave the seven-handed final table. Kelopuro and Rudolph followed him in sixth and fifth place. Jokee-apart and WRUUUUM exited the tournament in fourth and third place respectively.
WRUUUUM's elimination kicked off a tough $30,000 battle between WhySo€erious and Dzivielevski. But, Dzivielevski's card dominated, earning him another SCOOP title. WhySo€erious finished as a runner-up with $64,513.
Ready To Play Online For Real Money?
Join our top-recommended sites and enjoy the best online poker experience.
Top Poker Rooms
Bet Online Casino

Top USA Holdem Site
Excellent Payment Processing
Play Real Money Texas Holdem
Fast Cashouts

Ignition Casino

Texas Holdem for Real Money
Best Texas Holdem Poker Site
Variety of Poker Bonuses
Very Fast Cashouts

Bovada

Top Real Money Poker Sites
Loose Holdem Poker Games
Fast and Secure Payouts
Large Weekly Guaranteed Tournaments

Bet Online (International)

Top USA Holdem Site
Excellent Payment Processing
Play Real Money Texas Holdem
Fast Cashouts

Sports Betting (International)

Play Poker For Real Money
100% up to $2,500 Bonus
Loose Games
Fast Cashouts