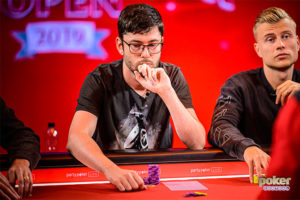 The Poker Masters Online PLO Series wrapped up with Eelis Parssinen winning the main trophy — an opportunity to wear the iconic purple jacket. The finale was tough as both Andras Nemeth and Jens Kyllonen dominated in their events and won three titles each.
However, that wasn't enough to beat Parssinen, who emerged in the first place in the leaderboard with just one point more than Nemeth. Apart from the purple jacket, Parssinnen also won more than $700,000, as he managed to cash out six times.
In addition to the money and the jacket, Parssinen also won an entry for the $51,000 Poker Masters Online PLO Series Main Event.
Nemeth, Kyllonen Win Three Events Each
The first victory that Nemeth managed to achieve was in Event #2, when he won a total of $126,686. After that, he won two more events — Event #9 and #12, absolutely dominating the series.
His biggest cash was in Event #9: $25,500 Super High Roller when he managed to win against Gavin Cochrane in the heads-up and received a total prize of $430,000. Other players who made it to the final table of this event are Viktor Blom, Aku Joentausta, Joao Vieira, and George Wolff.
Kyllonen also decided to add the third title to his portfolio. He took down Event #13: 10,300 High Roller, winning a total of $200,000. His heads-up opponent was a Canadian player Matthew Wood, who won $127,873.
Other players who made it to the very end of this event are Espen Myrom, Stephen Chidwick, Niklas Astedt, and Ludovic Geilich.
Despite both players winning three titles each, Parissien ended up a winner. He only won one event — Event #5: Super High Roller, where he cashed $440,000. However, he recorded two second-place finishes, two third-place finishes, and one fifth-place finish.
That's why he ended up winning the series, and Nemeth had to settle for the second place.
Parssinen amassed a total of $735,359 in earnings on the tournament, which resulted in 625 points. He also recorded six cashes.
The second-place player, Andras Nemeth, won a total of $674,186 for his effort over four cashes (three of them being victories). This resulted in 624 points in the final standings — just one point less than Parssinen.
Third place was occupied by Jens Kyllonen, who won $612,000. He recorded three cashes, and all three of them were victories. His final number of points was 612.
Other players in the top 10 standings are Gavin Cochrane (549), Aku Joentausta (452), Bengt Sonnert (366), Sami Kelopuro (321), Andrew Pantling (288), Marcello Marigliano (280), and Viktor Blom (273). Aku Joenatusta is the only other player to record six cashes in the series.
Poker Masters took place online this year due to the coronavirus pandemic. However, it seems that many players were still interested to take part in it, with many of them being popular poker professionals.