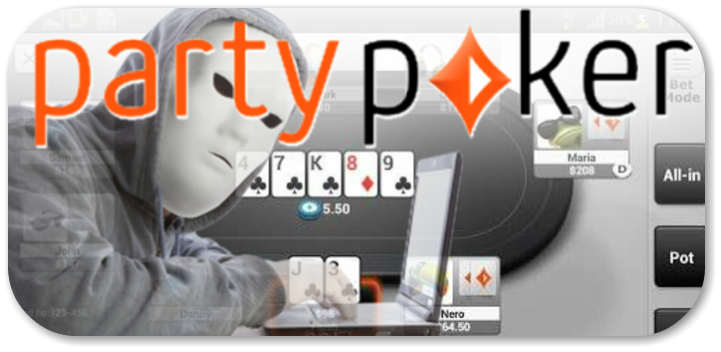 Party Poker has announced at the beginning of October that it is making changes at its poker room in an attempt to improve the poker ecology on the network as well as to promote fair play.
The poker site is making its cash game hand histories anonymous and banning the use of seating scripts, which is software that facilitates "bum hunting" because it automatically seats the players who are using them to locate the "fishiest" poker tables. This follows changes PartyPoker had made a year ago.
Players on Party Poker can still download their hand histories and your own username is still visible, but other players at the table will be identified as Player 1, 2, 3, etc. It is still not as good as the fully anonymous Bovada Poker tables, but it's a step in the right direction for casual player who are not wanting to be seated next to "sharks" using seating scripts and Heads-Up Displays (HUDs).
Why anonymous hand histories you ask?
Because it prevents data mining. Since players are anonymous in hand histories, they simply cannot be tracked. Not only does it make it impossible to get stats on opponents, but it will be more difficult multi-tabling, since your attention is divided between more tables.
Some online poker players can't even imagine playing poker online without a HUD, while others (namely casual players) believe the software provides an unfair advantage to the players who happen to be using them.
What changes can you expect at Party Poker?
After the changes, cash game players on PartyPoker will simply select what game and stakes they want to play and they will be randomly seated to a table
Party Poker is the latest online poker operator that has focused on improving things for recreational players. Anyone found to be using banned seating script software will get a warning from Party Poker followed by a permanent ban for a second offence.
"It's important for us to provide all poker players with a fair and ethical product whilst still allowing them to learn and improve," Tom Waters, group head of Party Poker, said.
These changes will likely not be an isolated incident and there will be other changes to help level the playing field for the recreational players on the site.
Do you think there will be more changes on Party Poker in its shift towards more of a recreational poker model? Let us know in the comments below. Also, do you think seating scripts were killing online poker?