PSPC has hosted a lot of celebrities, and some of them are even not professional poker players. On the other hand, there are true poker celebrities, such as Phil Hellmuth who doesn't usually play PSPC, but decided to take part in it this time. Apart from him, other popular players who participate are Daniel Negreanu, Phil Ivey, and Doyle Brunson. The first time Hellmuth managed to earn by playing poker tournaments was in 1989 when he took part in the WSOP Main Event. Since then, he has managed to earn more than $22.8 million dollars from tournaments, and win a total of 15 WSOP bracelets. Hellmuth is very aware of promoting himself and always comes up with creative ideas for dressing. For example, he dressed as Caesar once when entering the WSOP tournament. On the other hand, Hellmuth is not a regular player at PCA, but he decided to take part in it this time and is one of the players that play PSPC.
What Phil Hellmuth Said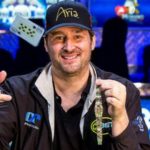 He said that he hadn't been to the PCA in a long time and that he was excited to play against a large field that required a $25k buy-in. Furthermore, Hellmuth added that fate played a big role in his decision. Before this, he was at an event in New Jersey called National Championship of Sportsbetting where he wanted to strike a deal with Draftkings. He told to himself that if he makes a deal, he would play PSPC, otherwise, he would go to play WPT at Gardens Casino. He managed to sign Draftkings, so here he is now at the PSPC. Hellmuth added that he was pretty impressed by the fact that event has more than 1000 players and that he had never seen anything like that. He added that it was a beautiful tournament and PokerStars really deserved all the credit for organizing such a great event.
Hellmuth also said that he was definitely going to make reservations for the following decade and take part every year. One might wonder — why is Hellmuth not present in tournaments other than WSOP? Well, he has some really good reasons as did not have enough time in the last couple of years. He started doing a lot of events, raising money for charity and appearing on TV a lot. However, he decided to make a move at one point.
According to him, he was sitting on a couch and watching a lot of interesting poker events on television and decided that it was time to make a move and set dates for some of the tournaments which he wanted to take part in. In the end, Hellmuth added that he wanted to be remembered for two things. The first thing is that he was a great poker player of all times, and the second is that he started a positivity movement and managed to motivate millions of people around the globe with his speeches and his book #POSITIVITY.