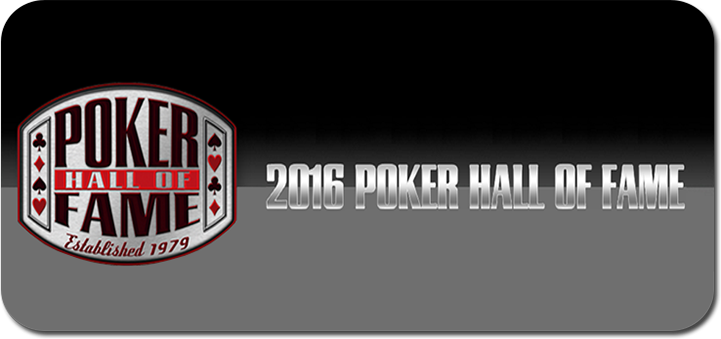 The prestigious award that any and all professional poker player, or otherwise, desires to receive is a spot on the wall of the Poker Hall of Fame. The 2016 PHoF nominations have begun, as fans, players, and everyone else involved in this card game can cast their vote for who they believe should get one of the two spots opened each year. Once ten finalists are chosen, the two lucky players will get voted in by a panel known as the Governing Council, composed of living Hall of Fame members, as well as certain select media, will vote on the final nominees.
Electing Only the Best
To be inducted into the Poker Hall of Fame is a great honor, and only one or two members are picked each year. There are currently 50 people on the wall, with the most recent members being,
| | |
| --- | --- |
| Name | Year Inducted |
| Eric Drache | 2012 |
| Brian "Sailor" Roberts | 2012 |
| Scotty Nguyen | 2013 |
| Tom McEvoy | 2013 |
| Daniel Negreanu | 2014 |
| Jack McClelland | 2014 |
| Jennifer Harman | 2015 |
| John Juanda | 2015 |
The complete list of members and profiles can be found here. From just looking at these few names we can already see what kind of person they would elect to be in the Hall of Fame. All of the people on the list have attributed something to the game of poker in one way or another and have made it even better for being part of it.
Criteria to Getting Nominated
Not just anyone can be picked, as there are certain criteria that must be met in order to be eligible:
A player must have played poker against acknowledged top competition.
Played for high stakes.
Be a minimum of 40 years old at the time of nomination.
Played consistently well, gaining the respect of peers.
Stood the test of time.
Or, for non-players, contributed to the overall growth and success of the game of poker, with indelible positive and lasting results.
This will limit the pool from which to choose from, but it will only allow those that truly deserve a nomination to be in the running. Those that want to nominate their favorite player or influential person can do so at the WSOP website, inputting their info and the name of their nominee. As we sit back and watch the great player's face-off in the World Series of Poker, we can also start thinking who deserves to be part of the Poker Hall of Fame this year.