Dozens of professional poker players have been targeted in the last few weeks through fraudulent accounts set up at online sports betting apps using the players' personal information. This resulted in the unauthorized withdrawal of tens of thousands of dollars.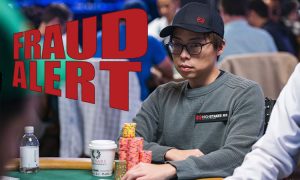 Many of the fake accounts were set up on the BetMGM sports betting site. However, the recent cases of identity theft among the players indicate a problem that's much bigger than anyone first imagined.
Several new incidents of fraudulent deposits have been discovered in recent days, with fake accounts for taking withdrawals added to fake online betting accounts using the players' names.
When the fraud was first made public, the few poker pros that came forward made it seem like they were the only ones affected.
As it turns out, several more pros have come forward with similar cases. Investigators have plenty of evidence to work with, but it's yet to be discovered where the security breach first took place.
Scammer Exploited Holes in Online Payment System
Poker pro Joseph Cheong was the first to make the public aware of the fraud when he tweeted last week that BetMGM had debited his bank account for $9,800, although he's never had an account with the online sportsbook. Other pros, such as Kyna England and David Bach, later came forward with similar stories.
Poker pro and founder of PokerFraudAlert.com, Todd Witteles, then came forward to say he was defrauded out of $10,000, explaining that the cause was most likely due to security issues with Global Payments Gaming Solutions, a leading online payment processor.
Witteles says that a fake account was created under his name at BetMGM in West Virginia on October 20. The same day, a deposit of $10,000 was made into the sportsbook account directly from his bank account.
The fraudster then opened a Venmo Debit Mastercard account in his name and added it as a withdrawal method on the BetMGM account. They then proceeded to cash out $7,500 to the Venmo account, which was then transferred to the Venmo account of another unknown person. The remaining $2,500 in the BetMGM account was withdrawn on November 4.
Criminals Didn't Use Hacks To Breach System
Witteles determined that the scammer accomplished all of this very easily because most of the leading online gaming sites use Global Payments Gaming Solutions as their payment processor. The company is known for not having repeat identity verification as a security measure.
Witteles said that when he opened an account and deposited cash at WSOP.com, he was originally required to go through identity verification, but no verification was required for subsequent deposits. This enabled the scam to take place without hacking the online database or website.
High-profile poker pros were likely targeted in the scam because they are well-known and usually have high balances in their online gaming accounts. It was discovered that all the accounts were created through BetMGM and the Viejas Casino in California.
Most of the victims first used Global Payment's system with the WSOP website. Witteles is still investigating the case and is working with his bank and a local detective to try and retrieve the funds stolen from his account.