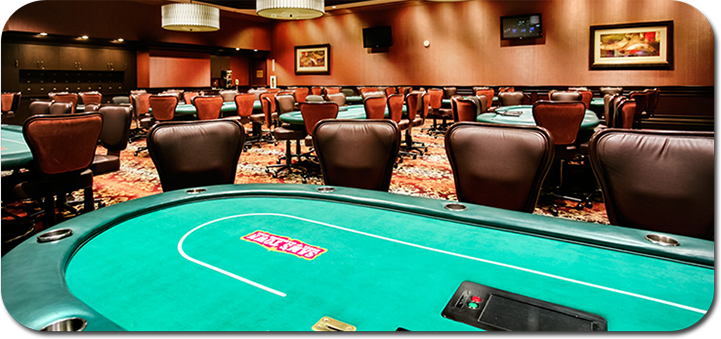 It seems that the poker rooms in Nevada and Atlantic City have been suffering, despite the summer months being their biggest in generating revenue. However, there are certain aspects that are making this drop in revenue a reality, at least during the month of May. Whether it is getting a competing poker room re-opened, as well as having no live tournaments can mean a big difference in revenue.
Nevada Poker Room Revenue Down
Revenue figures for May were just released by the gaming regulators in Nevada, and it doesn't paint a pretty picture. The numbers for May are at $8.89 million, a 14% decrease over the same month in 2015; which brought in $10.32 million. Despite this shortfall during the busy months of the year, many contribute this low number to the fact that the World Series of Poker did not start in May as usual, but instead began in June.
This is the first year where the WSOP did not start in May and all of the live tournaments and cash events that come with it. This counts the revenue generated by online poker. There are 755 poker tables in 2015 in the state that was taken into account. The revenue so far for 2016 is:
January: $9.5 million (2.85% decrease)
February: $8.98 million (5.44% increase)
March: $9.68 million (0.01% decrease)
April: $8.57 million (0.86% increase)
May: $8.88 million (13.92% decrease)
June and July should bring in larger numbers due to the fact the WSOP is in full swing.
New Jersey Revenue Up and Down
The problem with Atlantic City is that their brick-and-mortar operations are on the decline, while online gambling is has increased, or at least remained even. The online poker revenues in May was at $2.57 million, compared to April's $2.58 million, it has remained relatively flat. The three casinos and their revenue share:
Borgata (Party Poker/Pala Interactive): $731,863
Caesars Interactive NJ (888/WSOP): $687,287
Resorts (PokerStars): $1,151,703
Total: $2,570,853
When you look at the B&M poker revenue, which generated a total of $2,229,607, it goes to show how much online play has gotten, and will continue to go. The re-opening of the Trump Taj Mahal poker room doesn't help but thin the low player population into 5 casinos rather than 4. It has been tough to get players into the seats, considering that there are no live tournaments being played in AC currently.