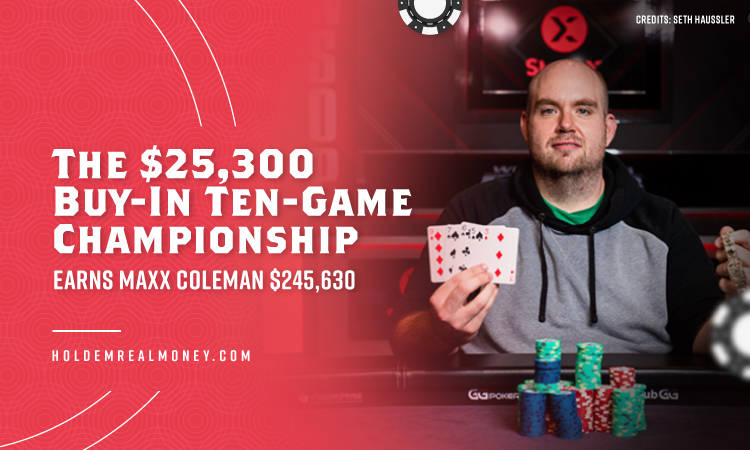 The $25,300 Buy-In Ten-Game Championship was the 2023 PokerGO Tour (PGT) Mixed Games II festival's marquee event. It attracted 29 entrants who created a $725,000 prize pool that its top five participants shared.
Maxx Coleman took the pool's largest share of $245,630 after being the last standing player at the final table. It was the fourth-biggest payout in his professional poker career.
The champion collected 174 PGT points besides receiving the prize and trophy. It was his second time to cash at the series after exiting the $5,100 Ten-Game tournament earlier in ninth place. He ended the PGT Mixed Games II series points competition in the fifth position with 188 points.
The Top Players Awards
Maxx Coleman – $245,630; 252 Card Player Player of the Year (POY) points and 174 PGT points

Alexander Livingston – $232,870; 210 POY points and 113 PGT points

Chino Rheem – $116,000; 168 POY points and 70 PGT points

John Hennigan – $79,750; 126 POY points and 48 PGT points

Dylan Weisman – $50,750; 105 POY points and 30 PGT points
The Final Day's Action
Only nine finalists advanced to the event's final day at PokerGO Studio. Jeremy Ausmus, a six-time bracelet holder, burst the money bubble. He finished in sixth place, guaranteeing each of the five top finalists at least $50,750.
Dylan Weisman followed Ausmus in fifth place shortly with $50,750 after losing a round of no-limit deuce-to-seven single-draw lowball. John Hennigan, a six-time bracelet champion, finished fourth after losing a hand of no-limit hold'em.
Hennigan used Q-6 suited to shove his chips from the button when he faced Alex Livingston's A-K in the big blind. The latter made an eights and kings flop that dominated, sending the former home in fourth place with $79,750.
Chino Rheem used A-9 to get his remaining stack all-in against Coleman's pocket nines. The latter's pair dominated and busted the former in the third position with $116,000. It was his fifth score in the series as he won a $10,000 Big Bet Mix tournament.
Rheem was announced as the series' champion after cashing $433,600 in total. Besides receiving the title, his stunning performance earned a $25,000 championship bonus.
His exit kicked off heads-up action between Livingston and Coleman. Livingston had a 3,365,000:2,435,000 chip advantage over his opponent. However, the duo agreed to restructure their prizes.
Their deal earned Coleman $220,630 and Livingston $232,879. However, they still competed for the title and an extra $25,000.
Coleman used A-Q to win a large pot after getting a nut straight in limit hold'em and a 5:1 stack lead. Livingston staked his remaining chips on the 10Diamond Suit5Heart Suit2Diamond Suit flop while Coleman used JHeart Suit10Heart Suit to face his ASpade Suit7Club Suit.
QDiamond Suit landed on the turn, while 4Diamond Suit landed on the river. They didn't help Livingston, and he finished second with $232,870 as Coleman received the top prize.
Play Online Poker Now!
Sign up at one of our recommended sites and have fun playing for cash.