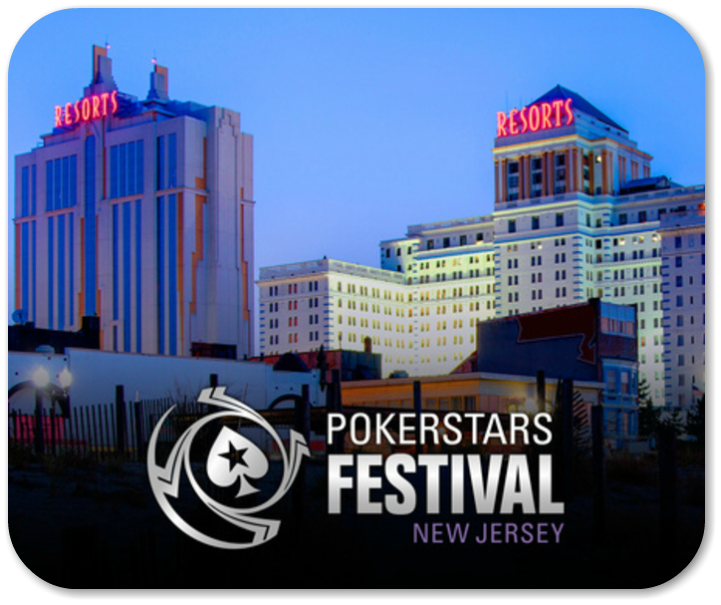 The first tournament in the PokerStars Festival held in Atlantic City took place on Sunday morning with the first of three starting flights for the $340 buy-in PokerStars Cup. The $2,200 buy-in Six-Max No-Limit Hold'em event, also kicked off. It is the first PokerStars live event to take place in the United States in more than 6 years. The PokerStars Festival will run until Sunday November 6 and will feature over 50 events.
"You hear people say all the time that the fun is missing from poker a little bit and that's what we want to change. When people have fun over in Europe, it's when they're playing Win The Button or Deuces Wild. Everybody knows how to play no-limit hold'em with the hoodies and headphones. Everybody can do that. That's every Main Event everywhere in the world now. We want this to have a little bit of a different feel than just a room full of 100 tables and that's what you experience," PokerStars Department Head of Live Poker Operations Neil Johnson told PokerNews.
A number of exciting blackjack, roulette, slots and video poker tournaments also began on Sunday, including the 36-Player Cap Double Elimination $120 buy-in Flipout tournaments, which cater to the small stakes players. So, it was an action-packed start to the PokerStars Festival in New Jersey.
PokerStars Retires the European Poker Tour
To make way for these new PokerStars tournament series (which also includes the PokerStars Championship), the company retired its current live tournament schedule, including the famed European Poker Tour (EPT) series, which had reached its 13th season.
PokerStars will be officially launching its new live tours at the beginning of 2017. The PokerStars Championship that is replacing some of the EPT stops will kick off with its first event at the PokerStars Championship Bahamas stop – which was previously the PokerStars Caribbean Adventure (PCA) and one of the most anticipated events on the live poker tournament calendar.
The PokerStars Festival events in PokerStars live tournament schedule moving forward will have more of a regional feel. It was a huge decision to retire the hugely popular EPT events, but this change will help consolidate and streamline the many live tours on PokerStars' roster.
As part of the PokerStars re-brand of its live tours, enhancements to the registration process will be in place at the first Bahamas event in the new year, which will include an online platform to allow for pre-registration. There will also be self-serve terminals for the PokerStars Championship events.
More information on both live tours can be found at the brand new website at PokerStarsLive.com, which will not only facilitate pre-registrations, but will have live webcasts, and much much more. Furthermore, all of PokerStars social media is now merged into one channel.