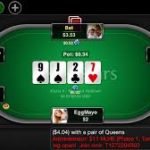 Two years ago, the state of Pennsylvania paved the legal way for regulated online poker to come back. However, there have been some complications along the way, and residents had to wait for some time before they were able to start enjoying playing digital cards on the web. It seems that the waiting time is over, as PokerStars is likely to become available in the state starting Nov. 4.
One of the gaming reps of Pennsylvania stated that they had prepared staff which would "initiate and oversee" a test launch that would take place on Monday. However, they weren't talking about poker, per se. Instead, this was a comment made about an online casino that is planned to launch in the state.
According to the representative, the site will have a form of an online casino gaming site that holds a Mount Airy Casino license. Moreover, they stated that the site would also include a test poker room.
Mount Airy is an operator and a land-based casino partner to PokerStars. Therefore, it isn't hard to guess that the casino will feature a PokerStars poker room.
Long-Awaited Product Launch
After the approval of online gaming in Pennsylvania in October 2017, there was no sight of a single product for some time.
It was only in July 2019 that the first launch was made, and gambling lovers were able to access some games on the web. However, the poker timeline was a bit different, as it stumbled upon various regulatory complications, and it was one of the main reasons why it was delayed instead of being launched earlier.
Nevertheless, Nov. 4 is a date that many residents of Pennsylvania are looking forward to. It will be the day when PokerStars is probably going to make a full reveal of its second US product. According to a PokerFuse report, Pennsylvania players will have access to a "watered down" product compared to the international PokerStars offer.
Some things that Pennsylvania players will be able to access include no-limit hold'em and Omaha, as well as a couple of mixed games. Since live cash games are already popular in this state, poker lovers from Pennsylvania will have an opportunity to try some similar products on the new PokerStars platform.
However, what Pennsylvania residents will not be able to play include heads-up action and Zoom. The latter is not that popular, and it is actually excluded from many online poker clients.
On the other hand, the heads-up play has been gaining popularity, and the reason why it will not be included is that there are probably some regulatory obstacles that were not solved yet.
If there are no problems with regulations, then perhaps PokerStars is simply not sure whether the product could be supported by the market and still not plan on including it. Zoom, on the other hand, was not intended to be a part of the offer from the beginning.