The Sunday Million is a prestigious poker event hosted by PokerStars every Sunday. It is one of the most anticipated online poker events on the platform. This year marks the 17th season since the tournament was launched.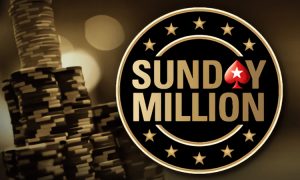 PokerStars will be holding a special event to mark the anniversary on March 26, 2023. The buy-in for the event will stand at $215 while the guaranteed prize pool is $7,500,000, which will be easy to collect considering the popularity of the event and the huge numbers it will attract.
Notably, the Sunday Million has attracted tens of thousands during the previous anniversaries. For instance, the event attracted over 55,000 entries during the 2022 anniversary. The winner went home with prize money of $931,885.
In 2021, Vanessa Kade won $1,514,920. That year's anniversary celebration attracted almost 70,000 entries. This year will be an interesting time to compare the event's success with previous ones. But, the prize pool will likely hit $10 million.
How to Win Your Way to the $215 Sunday Million
We have seen many PokerStars events featuring bigger buy-ins, making $215 an affordable amount. When you compare the buy-in to the guaranteed prize, $215 is a small amount. Yet, some people cannot spend that much for an online poker event.
This should not be a reason for you to miss out on taking a shot at a huge payout. PokerStars is hosting many satellite events that allow you to enter the Sunday Million for a fraction of the buy-in.
These satellites will feature various game types and stakes. In fact, the poker operator plans to give tickets through Spin & Go once the event's scheduled date moves closer.
PokerStars also gives at least one seat at the event through a daily free buy promotion. You can enter this satellite event for free and spend $0.27 to re-buy into the satellite.
All you have to do is sign up with the poker room and find more details about the upcoming Sunday Million tournament and its satellites.
Warm Up Playing For Real Money Online!
17th Anniversary Schedule
The Sunday Million is scheduled for every Sunday at 16:30 ET. As we mentioned before, these tournaments usually have a buy-in of $215 with various satellites from Monday to Saturday to allow players to participate in the event with at least 400 credits or $2.20.
This year's celebrations will kick off at 6:05 GMT on Sunday, March 26. You have over 8 weeks to gather your buy-in or play satellites at PokerStars to enter the Sunday Million event.
With a buy-in of $215, you will get 20,000 chips. Meanwhile, the blinds will start at 50/100/12 and increase every 20 minutes, giving you enough time to work out your plan.
Another interesting detail we cannot leave out is that you can buy up to five entries. This will give you five chances to build your stack before the registration deadline.
The event will start with Day 1, comprising 18 levels. Then, the luckiest players will advance to Day 2. There will be a second day of the festival scheduled on March 27. Several changes will come with this tournament, including 32 levels of play.
The blinds will increase every 15 minutes, unlike the first day. The winners will advance to the final day, scheduled for Tuesday, March 28.
The 17th anniversary Sunday Million winner will be named on the last day. The event will feature every remaining player who will fight their way to win every last chip.