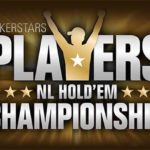 The PokerStars Players No-Limit Hold'em Championship that took place in the Bahamas in January this year was a very successful project. Some poker players and industry professionals consider the 2018 Platinum Pass giveaway one of the most ambitious promos in the history of live poker tours.
The officials of PokerStars saw the potential that this type of competition has, and decided to repeat the whole thing, by announcing another PSPC No-Limit Hold'em tournament that will take place in 2020.
Format And First Stop Of Hold'em Tournament
They will follow a similar format and invite players by providing giveaways for the most successful ones who take part in various poker tournaments around the world that partner with PokerStars.
The first stop was European Poker Tour Barcelona, where the first pass giveaway took place. The luckiest players of this tournament earned a free pass to this prestigious event that will happen in 2020.
PokerStars Pass Giveaways
PokerStars will give away a total of 320 passes to lucky winners all over the world. Each of these passes is worth $30,000. The biggest part of it is the planned $25,000 buy-in at a high roller event of next year.
So the players in EPT Barcelona who received the pass were a mixture of those who earned it by achieving great results and players who got it by being very lucky.
Two of the players who earned it and achieved great results in the actual event are:
Marc Rivera from the Philippines, who managed to finish in the third place and earned $2,168,000.
Ramon Colillas who topped the list with $5.1 million.
The story of Ramon Colillas reminds everyone of the story of Chris Moneymaker, who managed to win the 2003 Main Event and started with basically nothing in his pocket.
Colillas took some similar steps to that of Moneymaker and decided to become a Team PokerStars ambassador.
PokerStars Players Championship v2 Is Underway
A month ago, PokerStars started a promotion called,
"Chase Your Dream – Play Against Your Heroes."
Poker players have an opportunity to get selected for an all-celebrity event at EPT Barcelona. All they had to do to apply for this event is to send a video of themselves, explaining why they would like to be a part of that event.
The winners received a full package with all expenses covered!
Winning The 2020 Trip Prize
All of the five selected players had an opportunity to play 25 hands against some of the most successful poker players ever, including Patrick Antonius and Moneymaker himself.
Two of them remained in a heads-up battle against each other, fighting for a €10,000 prize. However, the battle became more intense when the PSPC 2020 was announced. It stated that one of them will receive a trip to the Bahamas where they will have a chance to play in one of the most ambitious high roller tournaments ever.
A 36-year-old Frenchman called Clement Eloy won both prizes and secured himself a trip next year!