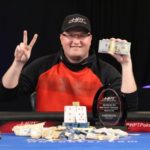 The Heartland Poker Tour (HPT) made a stop in East Chicago at the Ameristar Casino last weekend. It's the second time that the tour held an event there this year, and there were a total of 579 entries, as players paid a buy-in price of $1,650 and created a prize pool of $833,760. 
In the end, a professional poker player from Wisconsin named Josh Reichard took the main prize, winning a total of $186,812. Moreover, Reichard won a $3,500 HPT Championship package.
This is actually his second victory in this event, as there was an identical event taking place last November. Then, he won his largest cash ever, taking down the Ameristar East Chicago HPT Main Event title and winning a total of $221,293.
Reichard also shared his thoughts with the poker community, stating that the goal is to win. He added that he had liked the idea of winning and not just winning money, as other players who won money did not always feel happy.
The Final Table
The final table consisted of nine players, and the first one out was Michael Koh, who won $16,605. Nikola Budzakoski soon followed him for $20,757 in eighth place. Kevin Albers ended up seventh, earning a total of $24,906, while Henry Zou was sixth for $29,640. 
Brett Apter was fifth and won a total of $38,192, while Mike O'Neill ended up fourth for $52,555. The last player to hit the rail before David McDermott and Reichard started their heads-up battle was Eddie Blumenthal, who won $75,637.
When heads-up action started, Reichard already had a big advantage, as he had 2:1 chip lead over his opponent in the last part of the tournament. The two players did not take long to complete their game. In fact, they needed only about 30 minutes to wrap it up, with Reichard emerging the winner.
Naturally, McDermott did not make this victory smooth for Reichard as the back-and-forth struggles could be seen during the heads-up. Reichard played very well, slowly taking McDermott's chips until he had nothing left, finishing in the second place for $115,406.
The winner stated in the end that he had felt right about the heads-up part of the tournament. He added that he had thought to raise most of the hands with the big blind ante. His logic was that if his opponent were to fold, he would be taking big chunks of his stack. 
Finally, he added that he was pretty sure that he would get there, so he risked it with each hand.
Reichard has undoubtedly reached some significant milestones in his career, and he played great poker. It will definitely be interesting to see him take part in some of the bigger competitions. Luckily, he will have an opportunity to take part in the HPT Championship, having received a package for it.