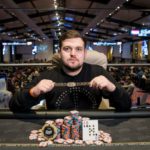 The World Series of Poker Europe is currently underway at the King's Resort in the city of Rozvadov, which is located on the border between the Czech Republic and Germany. A total of 15 gold bracelets are set to be distributed among the winners, and the first player to snatch a bracelet was Renat Bohdanov, who managed to win in Event No. 1, €350 Opener No-Limit Hold 'em. He earned a total of €53,654 in addition to a seat for the Main Event of the tournament, which is worth €10,350.
Bohdanov had a long day, and the heads-up part of the tournament against Norbert Mosonyi was particularly difficult as it lasted much longer than usual. Mosonyi, who comes from Hungary, had to face the fact that he was not going to win the bracelet. However, his consolation prize turned out much better than expected, as he too won a seat for the Main Event of the WSOPE 2019.
Bohdanov commented on the fact that he managed to win a bracelet, saying that he was still not realizing what he had just done. It was only natural that he was excited — after all, not everyone gets the highest accolade in poker that is embodied in a gold bracelet.
Although the player is not from the Czech Republic, he feels at home at King's Resort, where he moved to play a lot of small tournaments that this casino organizes every now and then. In other words, one could say that he played poker on the home ground, which is perhaps one of the reasons why he played confidently and bravely.
The Final Table Results
Although the field of this event included 1,011 entries, only 10 players returned on the fourth day to try and win a gold bracelet. Only a couple of minutes after the day officially started, Marcus Mondel managed to lose all his remaining chips and hit the rail, paving the way for the top nine players to create the final table.
The first player at the final table to drop out was Ricardas Vymeris from Lithuania, who won €3,853. He was followed by Jeff Lisandro from Australia, who is well known in the WSOP world as a seven-time bracelet winner. Lisandro did not manage to win his eighth one, but he managed to make it to the final table, which is still a great success. He won €5,026.
Seventh place was reserved for Rafi Elharar from Israel, who won €6,561. The next one to hit the rail was a player from the Czech Republic, Michal Kral, who did well on the home ground and ended up with €8,923 in his pocket.
Fifth place was occupied by Samuel Mika from Slovakia for €12,138, and Mykhailo Hryhoriev ended up fourth. Another player from Israel, Eyal Bensimhon, was third for €23,386, leaving Mosonyi and Bohdanov to face each other for the final prize.