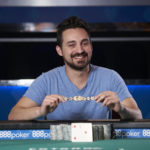 Sometimes, poker is not just poker. In fact, poker is sometimes stories that we are going to tell our kids and grandkids. It is not all about money or fame — there is something so native to poker that is closely related to personal development and feeling of happiness. Once such story that many players and poker fans are going to remember is that of Rick Alvarado.
Alvarado busted six times. However, he decided not to give up and appeared for the seventh time — and it was his lucky number seven indeed. His persistence and hard work paid off, and Alvarado managed to top the field of Event #64: $888 Crazy Eights No-Limit Hold'em. In fact, he beat the field that had 10,185 entries and managed to win the first prize which is $888,888. What's more important than that, Alvarado won the first WSOP bracelet in his life.
When asked to comment on his victory after the event, he was ecstatic, and just uttered that he was stoked, thrilled, and that the whole thing was unbelievable. The entire event seemed unreal, as it was filled with some crazy hands and incredible plays, with Alvarado being in the middle of it all.
The final day did not begin well for him as he came to it being short-stacked. He was on the lower part of the list of the last ten players, and there was only one way out for him. He added afterward that risking was the only logical way to go, and it had paid off in the end. One hand was crucial during the nine-handed play when his king-ten managed to beat pocket tens with the help of the table cards. He stated that it was the hand that had changed everything, and all went smooth after.
The Final Table Results
The final table consisted of ten players, and two of them went out pretty quickly. Keun Kwak ended up in tenth place for $82,130, and Uselis Gediminas from Lithuania hit the rail as the ninth-place player1, winning the same amount of money.
Austrian Mario Hofler ended up eighth for $105,888, and Vlad Darie from Romania was seventh, winning $136,888. The sixth place belonged to Patrick Clarke from Ireland, who won $177,888, while Aleksandras Rusinovas from Lithuania ended up fifth, winning $233,888. Vivian Saliba from Brazil was in the fourth position for $308,888, and Thomas Drivas hit the rail in third place, winning $409,888 and leaving Rick Alvarado and Mark Radoja to duel in the heads-up part of the event. Alvarado eventually won and decided to part with his previous career, where he worked at In-N-Out Burger for almost six years, practicing poker along the way. He is now looking forward to playing more poker tournaments and completely devoting his life to playing poker.