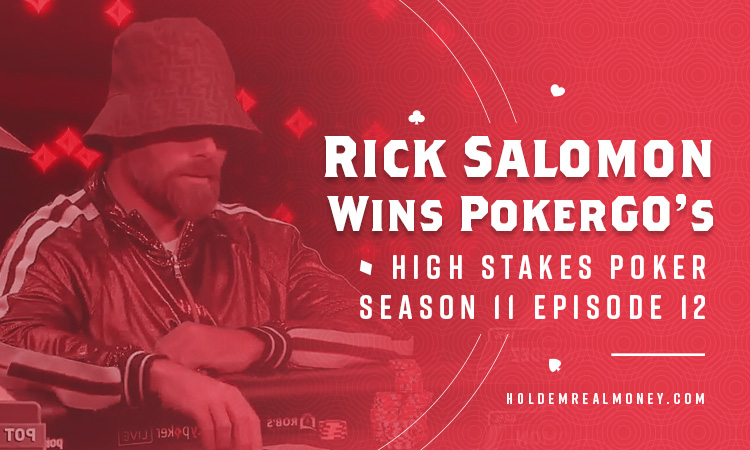 PokerGO held High Stakes Poker Season 11 Episode 12 on November 6, 2023. Its seven-handed final table featured the same players who battled it out in Episode 11. They included Rick Salomon, Justin Gavri, Jennifer Tilly, Bobo Chann, Brandon Steven, Jean-Robert Bellande, and Rob Yong.
What Were the Early Stack Sizes?
Rick Salomon – $863,000
Rob Yong – $541,500
Jean-Robert Bellande – $494,500
Bobo Chann – $340,000
Brandon Steven – $198,100
Jennifer Tilly – $127,200
Justin Gavri – $91,800
Salomon's Early Action
Salomon used a rivered flush to ship the show's six-figure pot. He wagered $10,000 and turned two pair in the next hand before folding to Yong's $40,000 raise.
Tilly used Q♥ Q♦ to make a $4,500 raise and Bellande used K♦ 9♦ to call in position against her. Steven used Q♣ 9♣ to call from a small blind and Salomon used 8♦ 5♦ to place a $26,000 three-bet. Tilly made a $172,000 all-in jam that earned her the pot.
Tilly's Aces
Tilly picked a pocket pair using A♥ A♣ after one hand. She later made a $2,500 preflop raise before Steven called with J♦ 8♣ in the small blind. Still, Chann used A♦ K♣ to make a $13,000 raise.
The odds favored Tilly for a while when she faced Bobo. She opted to make a $37,500 four-bet raise hence beating Steven in the pot's match. The latter didn't change his playing strategy after Bobo re-raised.
Bobo was keen when playing the Big Slick. He called to reveal a 3♠ 8♠ 6♦ flop that didn't improve any hand. Chann folded ace-high to a $50,000 wager and reduced his loss.
Steven's Unforeseen Luck
Steven played one of the episode's exciting hands. He used K♦ K♣ to limp in a $3,200 straddle hoping to set a trap for his opponent.
Luck struck when Salomon used 9♦ 7♦ to make a $15,000 raise from the small blind. Steven acted fast and didn't check-raise while going all-in. Instead, he made a $73,000 bet that didn't convince Salomon to fold.
Yet, an 8♣ 7♥ 3♠ flop appeared prompting Salomon to flop middle pair. He checked and later called an all-in $142,000 wager.
Steven and Salomon decided to run the remaining board twice. Their first run revealed A♣ and 9♣. It earned Salomon a two pair that helped him split the pot.
Even so, he landed 7♠ on the turn on the second board and won the full $437,100 pot. His unprecedented victory thrilled his supporters and increased his determination to dominate the rest of the episode.
Salomon's run continued in the next hand as he played on the Q♠ 5♠ K♣ J♠ Q♦ board with K♦ Q♥ when the pot had $173,000. He placed a $110,000 wager before receiving Chann's call that he made with Q♣ 6♣. Still, Bobo clashed with Tilly in the following hand.
Unfortunately, his rival's K♣ J♣ dominated his K♠ K♦ at the J♠ 5♥ Q♦ 9♠ J♥ board. This prompted Tilly to make a $97,500 all-in move and prevented Chann from folding. PokerGO will broadcast High Stakes Poker Season 11 Episode 13 on November 13 at 5 p.m. PT.
Ready To Play And Win Cash?
Check out our recommended online poker sites and play safely for real money.