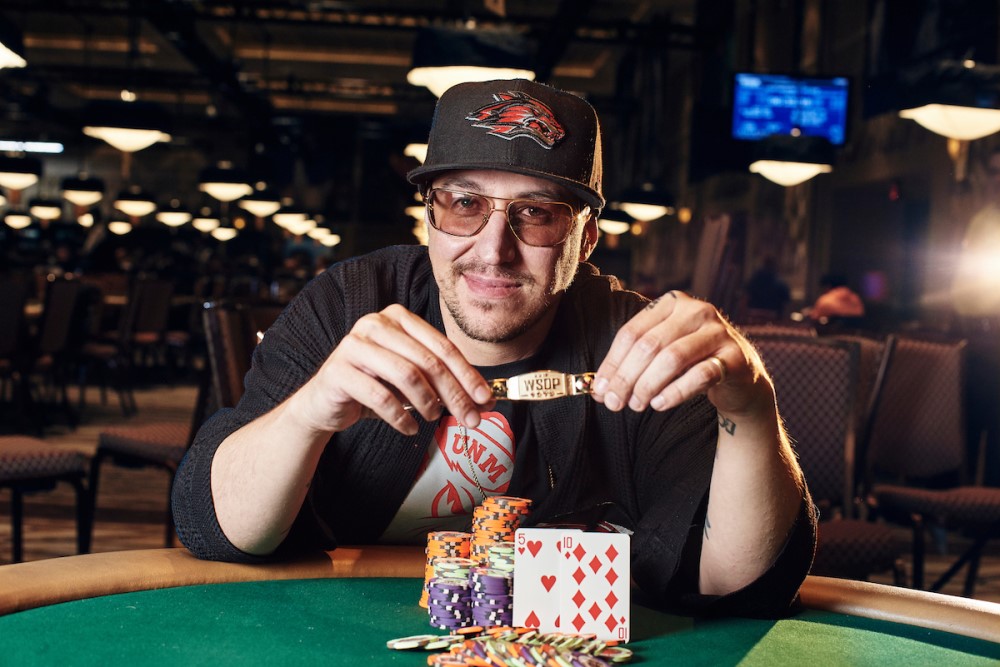 Rulah Divine is a great poker player and an even better musician. His best poker achievement was winning a WSOP bracelet when he took part in a $60 online qualifier set at WSOP.com, and eventually topped the field that was 1,750 strong, winning the bracelet at the 2017 WSOP Event #63: $1,000 NLH. But it is difficult for him to tell whether his primary job is being a poker player or being a hip-hop artist. Recently this gold bracelet winner released a song called "Eye of the Grinder" that kind of connects his two biggest passions – music and poker.
Rulah's Poker Career
Rulah Divine was born in Albuquerque, New Mexico, where he also spent his childhood. However, he has been a resident of Las Vegas for more than 18 years where he lives with his wife, Brooklyn Greyhouse. Rulah is actually a family man and has twins – a boy and a girl named Victorious and I'jaz. Divine stated that he considered himself both an entrepreneur and a poker player, adding that a part of his duties include helping wife's company called Greyhouse which hosts great themed parties for adults. Furthermore, he added that he was working on a brand on his own called Raise Alwayz where he would provide poker life-coaching, management, and other similar services.
Divine learned to play this card when he was only six, and since then, it has been the primary passion in his life. He used to sit with his grandfather at a bar where they played video poker. Divine added that he had started playing poker for money at the age of 12 which were mostly games that consisted of quarters, nickels,, and dimes. He soon began dreaming of achieving bigger success in the game and taking part in WSOP tournaments.
Rulah's Music Career
The other big passion in Divine's life is hip hop music. He fell in love with this genre of music when he was younger, but had to give up on pursuing a music career when his children were born. Nevertheless, now that his kids have grown up, he decided to return to his music career, with one of the products of his work being "Eye of the Grinder." Divine did not hide that he would love for the song to resonate with the poker sphere.
He stated that "Eye of the Grinder" was the first song he had made with a specific audience in mind. He added that he truly believed to have made a great song, and added that he felt the song was his biggest contribution to the poker world. In other words, he did not hide the fact that he would love for poker players to listen to this song and enjoy it. Divine also has big plans for his future as a rapper. He stated that the next step was to do a music video for "Eye of the Grinder" and that he is currently negotiating with Rio about the possible collaboration for the video.