888poker held a huge Mystery Bounty Festival last weekend.
The $55 buy-in tournament awarded its winner, while the $120,000 guaranteed Mystery Bounty Opening reduced its field to nine players. 888poker is the only poker betting site with daily mystery bounty events.
Leofoliveira Tops the $120,000 Mystery Bounty Opening Tournament
The $109 buy-in Mystery Bounty Festival Event No.3 attracted 1,032 players. Leofoliveira got the lead on February 20 at 6:00 p.m. GMT. He is eyeing over $900 mystery bounties and a $9,288 top prize.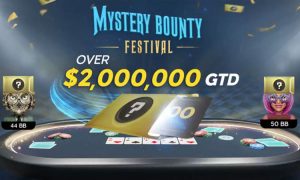 The player has six big blinds, more than CARRAMROD, the second player. Sraigtakkk holds the ninth position with 990,970 chips, equal to 12 big blinds.
The tournament's jackpot mystery bounty is worth $12,000 that 8ate8 clinched. He holds 1,109,668 chips or 14 big blinds and is eighth at the final table.
Action resumes at 6:00 p.m. and 888poker Twitch Channel will stream it. But it will be delayed by half an hour to enhance players' security.
Bounties at the Final Table
Leofoliveira from Brazil- $911.88 bounties; 4,143,942 chips or 52 big blinds

CARRAMROD from Ecuador-$363.86 bounties; 3,708,287 chips or 46 big blinds

bouillax from Malta-$415.88; 2,859,142 chips or 36 big blinds

Vivi.888- $311.88 bounties; 2,713,42 chips or 34 big blinds

perrivini from Brazil-$1,927.72 bounties; 2,059,855 chips or 26 big blinds

PashaPushu from Kazakhstan-$1,015.84 bounties; 1,680,670 chips or 21 big blinds

I8UrStack from Finland-$911.88 bounties; 1,374,024 chips or 17 big blinds

8ate8-$12,715.85 bounties; 1,109,668 chips or 14 big blinds

Sraigtakkkk from Lithuania-$611.88 bounties; 990,970 chips or 12 big blinds
Savchecnko1. Is the Mystery Bounty Event No.2: $50,000 Opening Event Champion
The tournament attracted 932 entrants comprising 201 re-entries and 731 new entrants. Its bounties ranged between $40 and $5,000 put in golden envelopes that were placed on each player after the 18th level began.
kojgysto888 didn't take long to win the $5,000 bounty jackpot after busting his foe. Yet, he left the tournament in the 71st position with $70 prize money.
corner130 exited the event in the 64th position with $70 in prize money and $1,696 bounties. Six of the final table's nine players made four-figure scores after investing $55 in the event.
EduAraujo finished ninth with $532, and 8vincent8 finished in eighth place with $606. DonSicario's run ended in the sixth position with $931, FlipMaster08 finished fifth and Dixon6hrsSet got busted in the fourth position.
Fackedelic's elimination in third place set up a heads-up match between Savchenko1. and Ssv117. The latter lost the battle to Savchecnko1. and won $3,778. Each of them can compete in another Mystery Bounty event soon.
The Top Nine Finalists' Prizes
Savchencko1. from Montenegro-a $5,503 total prize; $1,633 bounties and a $3,870 prize

Ssv117 from Kazakhstan- a $3,778 total prize; $955 bounties and a $2,822 prize

Fackedelic- a $2,237 total prize; $162 bounties and a $2,075 prize

Dixon6hrsSet from Brazil-a $1,943 total prize; $406 bounties and a $1,537 prize

FlipMaster08 from Brazil- a $1,518 total prize; $381 bounties and a $1,137 prize

DonSicario from Mexico- a $931 total prize; $81 bounties and an $850 prize

Heroeblanco from Argentina-a $2,330 total prize; $1,690 bounties and a $640 prize

8vincent8 from Canada-a $606 total prize; $121 bounties and a $485 prize

EduAraujo from Brazil- a $532 total prize; $162 bounties and a $370 prize
Ready To Play For Real Money Online?
Sign up, claim your welcome bonus and start playing for a chance to win real cash!