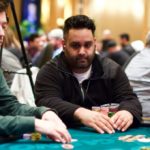 The first event of the Mid-States Poker Tour (MSPT) ended and marked the beginning of the 10th season last Sunday. The 2019 MSPT Cleveland Poker Open took place at JACK Cleveland Casino and saw a total of 725 entries who managed to make an outstanding prize pool of $703,250. Considering the fact that the buy-in was $1,100, the number of entries managed to set the record and made this event the largest one that ever took place in Cleveland. The event lasted for two days straight, and after a long and difficult Day 2, Sean Munjal managed to win the trophy as well as the first prize in cash which is $140,654.
What does Munjal have to say?
Sean Munjal is a player from Michigan who managed to give a brief statement to the media, claiming that the felt amazed after winning the tournament. He added that it was his first huge score and that he had never been a player who plays tournaments. Instead, he was more of a cash player who played many PLO cash games all over the country, and this was his first tournament this year. He was proud to announce that 2019 was off to a good start for him.
Since Munjal is not a professional poker player who makes millions playing this game, he stated that the first thing he had to do was to pay off his student loan debts. He was honest and said that he had been playing poker actively for ten years and that he had been waiting for his dream to come true which happened when he won this event. Finally, Munjal stated that the victory was going to be a significant boost for his morale and that he would take part in many other tournaments and play bigger games for more money. Before he won this tournament, he had a total of $38,000 in tournament cashes, and his best score was $7,723 when he managed to finish on the 10th place when he played in the MSPT FireKeepers Casino back in 2015.
Results of the Final Table
A total of ten people took part in the final table play. The first to go out was Michael Pempin, and he was closely followed by Clinton Hubble, Sean Troha, Ed Mogilnicki, John Mingus, Igor Ioffe, Joel Brink, and Adam Friedman. After Friedman hit the rail and won a total of $63,293, Anthony Carbone from Buffalo, NY clashed with Sean Munjal in the heads-up play. Munjal had a 2:1 chip lead at the start of the last part of the tournament which he used to quickly provide a conclusion to the whole thing. Carbone had to settle for the second place which was a huge success for him as well, considering that he finished on the 60th place on the same tournament last year.