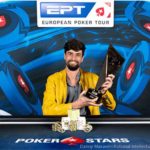 Poker in Spain has been doing pretty well lately. Attracting more people than ever, and one of the reasons is the tournament called EPT Barcelona.
One of its main events that is very popular was the €100,000 EPT Super High Roller. It ended with Sergi Reixach winning first place and a prize of €1,816,210.
Reixach Backed By Experience
Before he took part in this event, Reixach's biggest score was approximately $350,00. However, he is a very active poker player who takes part in various events, having earned a total of $2.6 million from playing poker.
Apart from playing live tournaments, Sergi is considered one of the best online players in Spain. He loves playing this card game on the web.
What Are His Future Plans?
Reixach's plans for the future include taking part in other similar high roller tournaments. Now that he has won a seven-figure score for the first time, he will be able to achieve his dream and play more events of that kind.
He also stated that he was experiencing some problems along the way, but that things are turning around in his favor lately.
Reixach Main Opponent Of The Tournament
Reixach's main opponent he had to face in the game was Sam Grafton, who also managed to end the tournament with a seven-figure prize.
The two players were engaged in a long and exciting heads-up play which took more than three hours. Both players had a chip lead a couple of times during the last part of the tournament, buy Reixach eventually managed to win.
Last Hand Of The 2019 €100,000 EPT Super High Roller
The last hand was exciting, as Grafton had 18 BBs at the time but suddenly started playing aggressively. He made a preflop raise and a continuation bet on the flop and ended up with a pot-sized bet.
Eventually, Grafton decided to go all-in on the river and Reixach decided to follow. Grafton had a queen-high bluff, whereas Reixach had a top pair, winning the tournament in the end.
The Super High Roller Final Table
The final table consisted of nine players. The first one to hit the rail was Mikalai Vaskaboinikau from Belarus, who managed to earn a total of €180,070.
Followed by Rui Ferreira from Portugal who ended up eighth and earned €235,950. Seventh-place belongs to Steve O'Dwyer from Ireland taking €304,250.
Luc Greenwood from Canada ended up sixth for €384,980, and a Japanese named Tsugunari Toma was fifth for €496,740. The fourth-place belonged to Kahle Burns from Australia. Burns managed to earn a total of €639,560.
Danny Tang was third for €857,570, leaving Sam Grafton and Sergi Reixach to play the heads-up part and compete for the final prize.
| Place | Player | Country | Prize (EUR) | Prize (USD) |
| --- | --- | --- | --- | --- |
| 1st | Sergi Reixach | Spain | €1,816,210 | $2,017,137 |
| 2nd | Sam Grafton | United Kingdom | €1,303,950 | $1,448,206 |
| 3rd | Danny Tang | Malaysia | €847,570 | $941,337 |
| 4th | Kahle Burns | Australia | €639,560 | $710,315 |
| 5th | Tsugunari Toma | Japan | €496,740 | $551,694 |
| 6th | Luc Greenwood | Canada | €384,980 | $427,570 |
| 7th | Steve O'Dwyer | Ireland | €304,250 | $337,909 |
| 8th | Rui Ferreira | Portugal | €235,950 | $262,053 |
| 9th | Mikalai Vaskaboinikau | Belarus | €180,070 | $199,991 |

EPT Barcelona is always exciting, and Sergi Reixach must have been proud to win a poker tournament in his country. He has big plans for the future, as he is a very talented poker player.