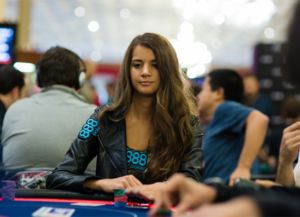 Making it to Day 2 in live and online poker tournaments means you already proved your worth. Even though the field is usually much smaller compared to Day 1, many believe that Day 2 is more difficult for several reasons.
First of all, you're probably tired, especially if your starting flight ended later on Day 1. Moreover, you might have taken part in other events before reaching Day 2, losing more energy along the way.
Still, Day 2 is where it all happens. The bubble usually bursts on Day 2, and the final table is created. If you do everything well, you might end up lifting the trophy — who knows?
That wasn't a rhetorical question, as there are plenty of great players who know what it feels like to dominate Day 2 in poker tournaments.
One of them is the poker professional Sofia Lövgren, who decided to share several pieces of advice on how to prepare for Day 2. Let's check them out!
Prepare Mentally
Lövgren says that her preparation for Day 2 includes having a good night's sleep and resting for some time. She says that it could be tempting to go out for a drink with buddies before Day 2, but that's not the wisest decision.
She is not opposed to drinking but recommends players hold their horses until completing Day 2. There will be time for celebration — especially if you make it to the money list. Sip some water in the meantime too. It's important to stay hydrated.
Eat Well
Lövgren says that one of the ways to prepare is to eat food that will give you energy and focus when playing poker tournaments. She usually eats oatmeal or an omelet, as she believes that this kind of food gives her a "feeling of fullness."
Get Rid of Bad Habits
Many people tend to have plenty of bad habits, but the most important one is having a lengthy morning routine that consistently makes them late. That's why it's essential to try to get everywhere on time, and that particularly applies to live poker tournaments. In other words, you don't want to be stressed when sitting at the table, and the sense of urgency can put an additional burden on you.
Preparing well in the morning will and getting to the tournament in time is a great way to focus on poker even more.
Staying Focused
Lövgren usually eats fruits or nuts. She often has an energy drink or a cup of coffee during the break. The point is — try to stay focused on Day 2 by taking in the right food and drinks. If Day 1 recently ended and you still feel tired from it, that could be an additional burden. One way to stay both focused and energized is to take a quick walk during the breaks to clear your mind.
Focus on Poker Strategy
Finally, Lövgren stated that focusing on poker strategy should be the #1 thing to do on Day 2. There are plenty of useful pieces of advice on how to approach this part of the tournament. Lövgren believes that players should scan the table, note their opponents' stack sizes and positions, and target weaker players by playing more pots with them.