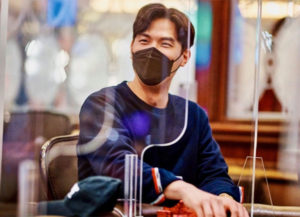 Sung Joo Hyun, or "Arte," has he is known at the table has won the Wynn Spring Classic $3,500 Buy-In No-Limit Hold Championship event with a $323,409 payday.
Sung Joo Hyun, a South Korean rising star, has recently won his second title this year. Six-weeks ago, Hyun secured a win at the WPT Deepstsck Venetian $16,00 buy-in event, with another massive payout of $208,335. These last two paychecks bring his total earnings to $1,033,602. Sung Joo Hyun won his first Bracelet the previous year, winning the $500 Deepstack No-Limit Hold 'em WSOP.
In The Beginning
This year's real money poker event had a turnout of 614 registered players which caused a few delays at the beginning. The high volume of players created a very sizable prize pool that just fell shine of two million—making it possible to pay out cash prizes to the top 63 players in this year's event.
Sung Joo Hyun Is Letting The World Know Who He Is
Early on, it looked like Hyun would make it to the final table; he had an overwhelming lead in terms of chip count and a good lead in the points. Sun Joo Hyun showed confidence as he knocks off some of the biggest names in poker today. Names like tournament legend Chris Moorman and three-time WPT winner Eric Afriat.
After weeding out, 580 players, the final day began; with only 34 players remaining, the tension in the room was palpable. The last day was filled with plenty of well-known heavyweights ready to take down whoever dared to stand in their way.
The Craziest Final Table Ever
The final table was the "craziest one of his career," said Hyun. After Hyun took down Will "The Thrill" Failla, the casino erupted in madness. It caused the casino director to step in and take charge by calm the crowd down. Some of the players and other spectators assumed that a brawl was happening in the crowd.
Heads-Up
Hung Faced Matthias Aura from Austria in heads play; the two players were nearly dead even in terms of the chip count. Sung Joo Hyun's chip count was $323,409, while his opponent Mathias Auer was holding $323,408 in chips. With the two-player side locked, they agreed that it would come down to $1 and the trophy for a best-of-three flip. Sung Joo Hyun comes out victorious in the heads-up play. It seems fitting since Hyun had mentioned he was in it for the trophy more than money.
The Offical Final Table Results
Sun Joo Hyun $323,409
Mathias Auer $323,408
Will Failla $173,204
Eric Afriat $121,450
Matt Wantman $89,842
Mihai Manole $69,588
David Polop $55,291
Chris Moorman $45,760
Sung Joo Hyun, AKA Arte, is no doubt a rising star in the world of poker. He is young and ambitious with big dreams. Hyun is set on being the best player in the world; that is the first goal. Hyun's second life goal is to raise poker players' profiles in Korea so the public does not only see them as just being gamblers. Sung Joo Hyun is definitely a player on the rise and will be someone to look out for in the future.