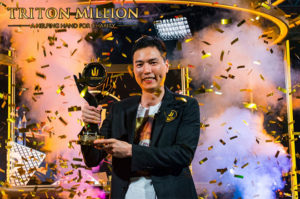 With the poker industry growing every year, new records are set every now and then. Several records took place in 2019.
In fact, one of the most important poker stories took place in London and was called Triton Million – A Helping Hand for Charity. What made this competition different from other similar tournaments is that it required the biggest buy-in ever.
To enroll in the event, players had to pay a total of £1,050,000. Since this was basically a charity event, £50,000 from every buy-in was dedicated to charity.
Players collected a total of £2.7 million for those in need and started playing poker in a historic event.
Zang Eventually Took The Prize
The player who eventually won the first prize was Aaron Zang, a poker player from China. He successfully defeated Bryn Kenney in the heads-up part of the game and won a total of $16,754,497.
However, Zang wasn't the one to win the most money in this competition. As a matter of fact, Kenney won more money. The two players had agreed to a deal before they proceeded to complete the competition.
Kenney won $20,537,187, which instantly placed him as the leader on the poker all-time money list. Therefore, Kenney proved then to be a living poker legend.
How It All Ended
At the start of heads-up play, Kenney had a 5:1 chip lead. The two players later decided to make a deal, but that seemed to have cursed Kenney, who ended up losing a lot of chips and, ultimately, the title.
Details About The Triton Million Poker Tournament
The tournament took place at the London Hilton on Park Lane and was the main focus of almost the entire poker community around the globe.
Another thing that was rather unique about this tournament is that it hosted both recreational and professional poker players. The split between the two was 50/50, meaning half of all players were professionals, and another were mostly wealthy people who enjoyed playing poker.
Now, the beauty of this game is that chance plays an important role, and it just so happened that the event was won by a player who considers himself a recreational player rather than a professional.
Selection Process For Invites
The way the selection process worked is that Triton sent invitations to professionals, and all of them had an opportunity to nominate one guest that they would like to take part in the tournament.
To make things fairer for recreational players, the field was split in two on Day 1. Recreational players faced other recreational players, and pros faced other pros. The two groups merged on Day 2.
Official Charity Event Decorum
Since Triton wanted this to be an official charity event, there were no late registrations or re-entries allowed. Moreover, the dress code was rather official, and no players were allowed to cover their heads with anything.
Therefore, things such as hoodies, sunglasses and other things were banned.
Let's see if 2020 can offer us other large buy-in tournaments. We may even see interesting things from the online poker sites.