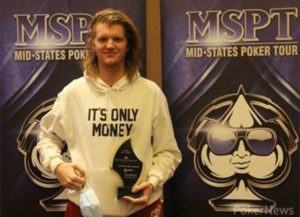 The 2020 Mid-States Poker Tour (MSPT) Venetian Main Event took almost 16 hours to complete, and the champion managed to earn a total of $201,529. His name is Landon Tice, and this was his first live poker score.
Tice is only 21 years old, but has already managed to achieve a significant result in the real money poker world by winning the MSPT Venetian Main Event. This was also his third live poker tournament, so it's safe to say that he is already making a name for himself in the poker community.
With a field of 1,123 players, Tice topped the group and grabbed the lion's share of the prize pool that exceeded $1 million.
Nice for Tice
The Boca Raton, Fla., native also doesn't have much of a track record when it comes to online poker tournaments, but it's still something. He cashed out three times, and all three cashes were won this past summer.
Tice started his poker journey by playing cash games with micro stakes, only to start working his way up, under the guiding hand of Joey Ingram. Right now, Tice is a proud winner of an MSPT championship and can continue to extend the list of his accomplishments.
Needless to say, Tice was excited after the event, stating that "it feels so good" to be a winner of such a significant competition.
Tice's final opponent was Brandon Lombardo, and the two of them engaged in a heads-up battle that lasted for a while. The final table play alone lasted for more than four hours, and Lombardo was a tough nut to crack, even though Tice lead 3-1 in chips at the start of the heads-up. In fact, Lombardo managed to double up and even gain a chip lead for a while.
The most important hand happened when the two players had almost even stacks, and both went all-in. Tice had two pairs on the river against Lombardo's top pair. Brandon Lombardo had to settle for the consolation prize of $135,074, which is still a respectable amount.
The Tournament Action
Even though a total of 1,123 entries were recorded on Day 1, only 145 of them returned on Day 2, and eliminations started happening left and right, leaving only 45 players after the second break. Not long after that, the final three tables were created, with 24 players left to compete for the main prize.
The event attracted some of the popular poker players, such as Nick Pupillo, Frank Funaro, Jason Seitz, and Sean Yu, all of whom made it to the top 24 players.
After the final table of eight players was created, Andrew Rodgers was the first to leave it, with a total of $17,429 in his hand. He was followed by David Larson, who managed to earn $22,876.
Finishing in sixth place was Byung Shin for $30,501, and the fifth-place finalist was Abraham Hichman, who took home $40,304. Sara Stohler ended in fourth place for $62,091, and the last player to leave the game before the heads-up was Jesse Vilchez for $91,502.