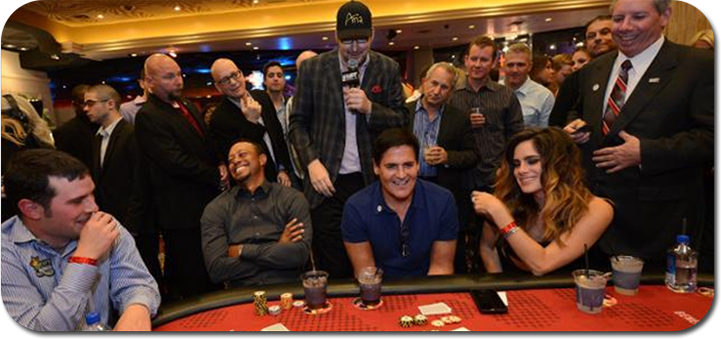 For the past 18 years, poker players and celebrities have lined up to join top golfer, Tiger Woods at the poker tables. During this year's Tiger Jam charity tournament, which is done in benefit of the Tiger Woods Foundation, plenty of celebrities joined the mix. As expected, the event was sold out before it even started, and the proceeds go towards scholarships and after-school programs.
Inside the Tiger Jam Poker Tournament
The night of poker took place at the famous MGM Grand Hotel & Casino in Las Vegas, where sponsors and players left their money at the tables; the World Poker Tour was among the sponsors. It was a night to remember, as poker pro Phil Hellmuth was the emcee of the event. With Helmuth at the helm, holding the mic all night, he was joined by several other famous players including, Maria Ho, David Chiu, Scotty Nguyen, David Williams, Liz Lieu, Antonio Esfandiari, and Daniel Negreanu.
We also had several sports figures like tennis pro Andy Roddick and the owner of the Dallas Mavericks, Mark Cuban, who is a regular at the charity event. Woods took his time as he would play with other celebrities and big names in the poker world, as he was seen at several tables throughout the tournament. The buy-in for this tournament was set at $11,000, and for the players that would end up winning would get plenty of prizes to walk away with, including playing a round of golf with Woods.
The Winners Table
Woods was able to make it to the final table, where he played against pros like Ho and Nguyen, as well as WPT commentator Vince Van Patten. We saw Woods walk away early as he bubbled, and ultimately Van Patten was able to win the tournament, becoming the new champion. The great thing is that he knocked Cuban off his pedestal, as he was last year's winner. The winner will get to play with Woods on the green, spots in the PGA Tour events, and plenty of other high-end goodies.
It was a great night for the Tiger Woods Foundation, who does this every year for the past 20 years. For those that may want to participate in such an awesome event will need to act faster next year, as tickets and entries are usually sold out very quickly.