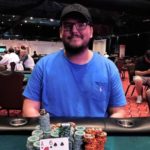 A high-roller event that required a $2,200 buy-in took place as a part of the World Series of Poker Circuit last weekend. The circuit stopped at Seminole Coconut Creek, a casino located in Coconut Creek, Fla. A couple of days ago, it wrapped up, and Jeff Trudeau emerged the winner, having managed to best a field that consisted of 73 entries. By winning the event, Trudeau officially won his seventh WSOPC ring.
The amount of money he won in the event is $46,363, meaning that he has a bit more than $1.7 million in poker earnings. However, the cash was not as important to him as the fact that he won another gold ring, which he could showcase in his amazing portfolio as a poker player.
Trudeau stated that he felt pretty good after the victory. He added that he had just run very well, especially during the final table action. Finally, Trudeau concluded that he had been very fortunate in a couple of spots, which also contributed to him winning the title and the prize money.
His start at the final table was pretty good, and one of the main reasons for that was the fact that he was the chip leader. However, he faced some tough opponents along the way, so his journey to the victory wasn't all that easy. In fact, four out of the eight people who made it to the final table were WSOPC champions at some point of their careers, so it was pretty difficult to draw the line of who the winner would be.
When he was asked about the competition at the final table, Trudeau stated that there had been a lot of great and tough players and that he had been trying to play his best against them.
Needless to say, he indeed had the best game and managed to win his seventh gold ring — something that not many players have achieved during their careers.
The Final Table Results
A total of eight players sat down to wrap up the event, and the first one to go out was John Corsi, who managed to win $4,683. The next one was Nicholas Visconti from Boca Raton, Fla. He earned a total of $5,636 as the seventh-place player.
Sixth place was occupied by Chad Eveslage from Ramsey, Ind. Everslage won a total of $7,128. After that, Bett Bader from Jericho, NY, had to hit the rail in fifth place, winning $9,451.
Sam Panzica, a poker player from Saline, Mich., ended up in fourth place and won $13,108.
Third place belonged to Carlos Guerrero from Orlando, Fla., who earned $18,984.
The last two players who took part in heads-up play were also residents of Orlando. Trudeau's opponent was David Porciak, who already had half the chips than Trudeau. He gave fierce resistance and even became a chip leader at one point. However, Trudeau eventually managed to take the lead and win the tournament.