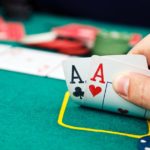 Poker is a social game that usually takes more than two players. In fact, "the more, the merrier" rule is applicable here. Although the maximum number of players by a table is not that high, players can always divide into more tables and create a tournament of a sort. That's how the majority of tournaments actually work.
Poker is, however, considered a single-player game. When you think of it, it's indeed a game where every player is playing for themselves. There are card games that require two players to play out, but that's not really the case with poker. Or is it?
The right question is — is there a way for poker players to create partnerships and play poker as teams? How can this be achieved?
There were a couple of attempts of this kind, as poker players tried to come up with several poker variations that will allow them to make teams. Several of these variations have become pretty popular.
The current most popular version of poker that allows two players to create a team is called tag team, and it was revitalized when a "tag team" event was introduced in the 2016 World Series of Poker.
However, even when the event called "Tag Team No-Limit Hold 'em" was introduced, it wasn't the first time that the World Series of Poker attempted to introduce one such event. In the period between 1979 and 1983, there were events called Mixed Doubles, which included one male and one female player creating a team and taking part in the event.
The first one was actually won by Doyle Brunson and Starla Brodie, and the team managed to receive a gold bracelet for its victory.
How To Play Tag Team
The format of the tag team is pretty simple, and it can be realized in many different ways. In fact, the game is pretty much similar to other popular poker variants, and the only thing that is different is that players can "tag" in and take over the stack in order to continue playing the game. It's pretty much like when wrestlers tag in to help their partners.
In WSOP, teams can have up to four players, and every player is required to play at least one full orbit during the event. If they don't manage to play a full round of blinds each, the team will be disqualified.
There are a couple of rules when players can tag in. The most important one to follow is that players are only allowed to tag in between hands. In other words, it is not possible to do it while a hand lasts.
Naturally, there are different versions of tag team that are played in different places, and some of them have additional rules when it comes to minimum requirements, the amount of time spent for each team member, how often they can substitute, and more. If you haven't tried tag team, make sure to find your team and give it a shot!