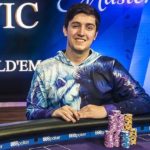 Ali Imsirovic is one of those poker players who either play to win or they don't play at all — at least that's what it seems like in the last couple of months. In 2018 Poker Masters, he managed to win two back-to-back events and even topped the list in the race for the purple jacket. That was a perfect time for him to take a break from playing poker for some time and enjoy being a winner. He decided to go back to PokerGO Studios in Las Vegas and immediately managed to win another event. This time the tournament is the 2019 US Poker Open, where he played in Event #5: $25,000 No-Limit Hold'em. Ali managed to win a total of $442,500 and top the 59 players field.
The Final Table
The final table consisted of six players who battled their way through to sit beside the best. Imsirovic dominated throughout the event, and at the time the final table was formed he was already a chip leader. That being said, he did not take long to beat all his opponents in the last part of the event and close it out. After two hours of play, he emerged victorious and claimed his cash prizes. Furthermore, he was awarded points in the race for the US Poker Open 2019 championship.
The first player to go out was Joseph Cappello, who was eliminated by Nick Petrangelo. Capello managed to earn a total of $88,500. The next one to hit the rail was Kristen Bicknell, who was the only player from Canada sitting at a final table of US residents. He was eliminated by Dan Shak, who had pocket nines against the queen-jack that Kristen had in his hand. Bicknell won a total of $118,000.
The next one to go out in fourth place was Nick Petrangelo, who was certain that he would win with his pocket jacks only to face two black aces that Imsirovic had. This was a very important moment in the final table as Imsirovic gained a massive lead and was certain that he would play in the heads-up part of the tournament. Imsirovic continued his streak and immediately managed to win in a hand against Shak, thus setting up everything for the heads-up play where he started off with a 10:1 chip lead against Cary Katz. It did not take him long to conclude the event and Katz had to settle for $295,000. Will Imsirovic manage to do something similar to to the last tournament he played and make a back-to-back win?