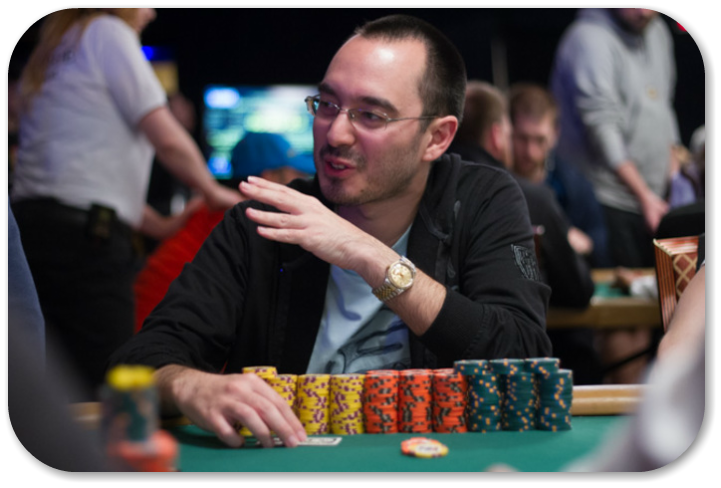 With the November Nine final table fast approaching and World Series of Poker Main Event episodes airing at the moment, we've decided to take a look at William Kassouff and more specifically his table talking antics – who is of course the vocal British poker player that made a deep run in this year's World Series of Poker Main Event. The ex-lawyer decided to try his hand at poker, which he has done the last few years.
Although he didn't make the November Nine final table, which you can see hand-for-hand live on ESPN, Kassouff still managed to make an impressive run. His 17th place finish was good for $338,288.
Although the loud Brit has certainly received polarized opinions from a lot of poker enthusiasts. Some think he is a fresh of breathe air and the next Phil Hellmuth. While other players find it to be extremely annoying because it slows the game down and crosses the line at times.
Regardless of what your opinion is of him, there is no denying that his table talking skills helped him progress as far as he did in the main event.
Kassouff admitted himself that the table talk was a big part of his game, commenting that:
"I like the psychological aspect, outwitting your opponent. There's a strong correlation between being a lawyer and being a poker player, outwitting your opponent to get the desired result. There's no intent as far as needling players or malice. I think poker should be fun. At the end of the day, it's a game and you should enjoy it."
The ongoing table talk from Kassouff certainly helped him to get under the skin of many of the opponents at his tables, getting them handing over their chips and building up his stack until it ended for him in a cooler when he got his stack in with pocket kings, but he was up against an opponent's aces.
Some players have commented that while Kassouff had a lot of success with his table talk in this year's Main Event, that was because he got lucky with the table draws, and his tactics work well against amateur players that tilt easier, as they tend to buckle under the pressure of psychological warfare. If he was to use the same strategy against seasoned live pros, it wouldn't be as effective, as they would be better at getting reads from the fast-talking Brit.
Kassouff's Table Talk Earned Him a One-Round Penalty
William Kassouff's table talk resulted in him receiving a one round penalty from tournament director Jack Effel on Day 5 of the WSOP Main Event after being in an altercation in a heads-up pot with Stacy Matuson who busted soon after this hand. But did he deserve the penalty? The poker community mostly agree that the penalty was not deserving. Many players might have found it annoying, but does it break any rules?