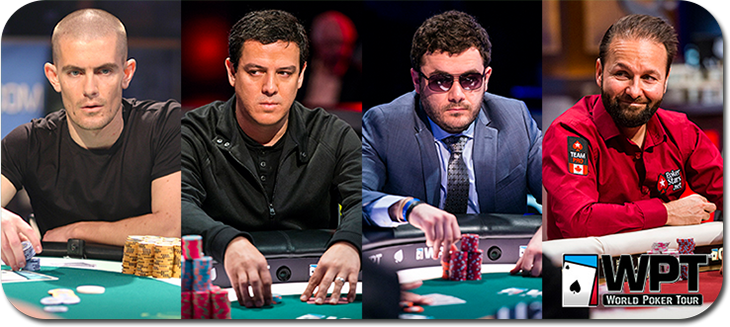 The World Poker Tour's Champion's Challenge has reached its Sweet 16 round, where fans from around the world vote to have past winners play each other. This marks the end of Round 2, where the clear favorites have emerged victorious. The top four favorites that are still in the game and have nice odds of winning it all, include:
| | | |
| --- | --- | --- |
| Region | Player | WPT Earnings |
| Spades | Gus Hansen | $4,051,782 |
| Hearts | Phil Ivey | $3,370,721 |
| Diamonds | Anthony Zinno | $2,325,554 |
| Clubs | Daniel Negreanu | $5,808,023 |
Fans had Daniel Negreanu beating his opponents quite easily for the first two rounds of the bracket-style competition, but will his winning streak continue or will he be stopped during the Sweet 16 round.
Favorites and Their Upcoming Opponents
Spades Region: (1) Gus Hansen vs. (4) Alan Goehring
Hansen will be facing Goehring, who has 2 WPT titles to Hansen's 3. It is clear why Hansen is a clear favorite, even during this round, making it to 7 final tables, gives him plenty of experience with heads-up competition. It will be a tough match for Goehring, but it looks like Hansen will take this round as well.
Hearts Region: (7) Phil Ivey vs. (3) Michael Mizrachi
Regrettably, #1 seed in the Hearts region Carlos Mortensen was taken out by #8 seed Erik Seidel in an unexpected turnaround. Seidel is now matched against Marvin Rettenmaier but is expected to overcome those odds and move on to the next stage. The big match-up will be between Phil Ivey and Michael Mizrachi. Mizrachi does have the lead with 2 WPT titles, but they were early victories while Ivey has made it to 9 final tables and won a WPT title. Next round prediction will be between Ivey and Seidel.
Diamonds Region: (1) Anthony Zinno vs. (4) Moshin Charania
Anthony Zinno, coming into the next round after a close match against Ted Forrest (59% to 41%), will have to get his fans onboard to beat Moshin Charania. Charania has been crushing his opponents so far, so it will be a close match between these two giants. They have similar experiences, Zinno with 3 WPT titles and 3 Final tables, while Charania comes in with 2 WPT titles and 4 Final tables. Both are young poker pro's, so it will be an interesting match-up.
Clubs Region: (1) Daniel Negreanu vs. (4) Jonathan Little
Daniel Negreanu has been a force to reckon with, as he has beat his previous two opponents by a large margin; 96% to 4% and 92% to 8%. His next opponent will be much tougher to beat, as Jonathan Little also has been having an easy time defeating his opponents. Negreanu with 2 WPT titles and 7 Final tables, and Little also with 2 WPT titles and 4 Final tables. They both have experience, but Negreanu is years ahead of Little, and being the big favorite also helps.
Voting for the Sweet 16 round continues until March 25, so if you want to vote for which poker pro will go on to the next round, place your vote at WPT.com.