Both the World Poker Tour (WPT) and PokerStars are no strangers to generosity. They both have given to charities for the year.
The two paused earlier in February to announce their newest charity initiatives. Coincidentally, the two poker giants announced their initiative on the same day. 
WPT is partnering with One Drop Foundation, while PokerStars is partnering with GlobalGiving through its parent company Flutter Entertainment.
WPT Foundation and the Partnership with One Drop Foundation
WPT has a nonprofit entity through which it raises money for various charities globally. This foundation was launched in 2011/2, raising over $45 million through 50 events. One of the latest events was held in the fall to raise money for Education Reform Now.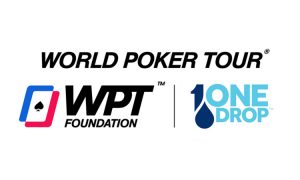 This money was dedicated to providing quality public education to children. The event's tickets were sold out. The foundation raised almost $2 million.
WPT Foundation has also raised money for TGR, NASCAR, Vahagn Setian Charitable, and Catch 81 foundations. Others include Conservation International, Children's Hospital of Philadelphia, Special Olympics, Institute Veneto, Model Citizen Fund, and World Central Kitchen.
On February 9, 2023, WPT added another partner to the list. The poker operator announced that it was partnering with One Drop to raise funds for the One Drop Foundation through casino events in the USA and other continents.
The CEO of WPT, Adam Pliska, was excited to team up with One Drop Foundation. He noted that his company had always been at the center of giving, hence its decision to create the WPT Foundation.
Alexandre Meunier was also excited about the new partnership with WPT. The Chief Marketing and Events Officer even explained that her foundation had raised over $25 million through poker events in the past.
One Drop Foundation's primary goal is to improve global access to safe water and living conditions. By partnering with WPT, Alexandre believes that it will help her foundation achieve its goal alongside the poker community.
PokerStars and GlobalGiving
Shortly after PokerStars launched, the real money online poker operator realized it could do more than offer poker.
The poker room decided to work with charity organizations globally. In 2004, PokerStars worked with the Red Cross to raise money for victims affected by the tsunami in the Indian Ocean.
In 2005, the site hosted charity tournaments to raise money to help the American Red Cross with victims hit by Hurricane Katrina in the southwest of the USA. The poker room did not stop there. It has partnered with several other organizations to help mass shooting victims, typhoons and earthquake victims in Asia, AIDS, and cancer research, among others.
PokerStars, through Flutter Entertainment, has partnered with GlobalGiving to help those that survived earthquakes in Syria and Turkey. The quake left over 17,000 dead and millions of dollars worth of properties destroyed.
PokerStars decided to match the public's donation to up to £100,000. The death toll has risen to over 35,000 since PokerStars and GlobalGiving launched their initiative.
GlobalGiving launched in 2002. It works with community-based organizations to deliver financial support, training, and other tools. The group has raised over $805 million over the past 20 years.