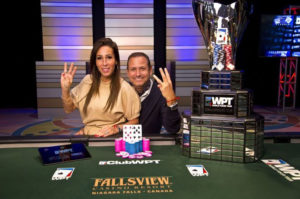 Fallsview Casino Resort hosted another World Poker Tour Fallsview Poker Classic. The 2020 edition saw the victory of a somewhat familiar face — Eric Afriat. He managed to top the field consisting of 594 people to win CA$508,021 as his final prize. The Canadian poker player managed to win his third WPT title.
The first title was back in 2014 when he took place at the WPT Seminole Hard Rock Poker Showdown, where he managed to win a total of $1,081,184. Four years after that, he took part at WPT Borgata Winter Poker Open Championship, where he snatched a total of $651,928.
In other words, the amount of money he won in Fallsview is actually the lowest of the three. Nevertheless, winning the third WPT title is definitely a big deal.
Last year, he was one step away from winning another WPT title, as he took part at WPT Seminole Hard Rock Poker Showdown once again. However, the title slipped through his hands when he lost in the heads-up play.
Afriat admitted to being depressed after that loss. He stated that he had come as a chip leader in the heads-up, but he failed to hold his lead.
According to him, his son was very disappointed when he failed to bring another title, so he was more motivated to win another WPT title, and that happened to be in Fallsview.
The Final Table Action — Canadians Dominate
The WPT stop is in Canada, so it was only natural that the majority of players were Canadians. This rule applied to the final six, as five out of six players were from that country.
The only non-Canadian was the American player Zuhair Al-Pachachi. It just so happened that he was the first to hit the rail and leave five Canadians to play poker. Al-Pachachi managed to win CA$103,217 for his effort.
The next person to hit the rail was Demo Kiriopoulos, who was the defending champion of the last year's WPT in Fallsview. Although he had a fairly good run, he failed to repeat the success and ended up fifth for CA$125,850.
Fourth place was reserved for Trung Hien Nguyen, who ended up with CA$163,965. The last player to hit the rail was Adam Hui, who finished with a total of CA$229,013. Although the three-handed play lasted for some time, the heads up did not last long as Afriat was already a chip leader.
In fact, he only took five hands against Marc-Olivier Carpentier-Perrault to finish him off. Carpentier-Perrault ended up with a total of CA$356,180 in his pocket.
This was yet another stop for the World Poker Tour, which continues to travel on as part of its Season XVIII. The next stop on the schedule is the WPT Rolling Thunder, which will take place on March 7-10. Soon after that, players can focus on WPT Venetian that will last from March 13-17.