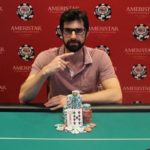 The 2019-20 World Series of Poker Circuit is underway as its fourth stop wrapped up at St. Charles Ameristar Casino in St. Charles, Mo. The person that managed to become the winner of the $1,700 Main Event was Scott Hall.
He denied the title to Andros Ioakimides, who was aiming for winning a second gold ring in WSOPC. There were a total of 414 entries, and Hall managed to outlast every single one of them, winning $130,667 in the end, along with the gold ring.
On top of that, he also managed to secure himself a seat into the 2020 Global Casino Championship.
Hall is from Fayetteville, Ark., and has been actively playing poker for more than a decade. In fact, he is a poker professional who has managed to earn approximately $582,006 during his career as a poker player.
He commented on his victory by saying that he had had "the best run of hands" in his entire live poker career. He added that it all felt really great!
Final Table Results
The final table was still not official when the last nine players returned at Level 24 in order to test each other's skills and luck and skills. The first player to hit the rail was Paul Strohm who comes from Kansas City, Mo. Strohm managed to win a total of $11,634. It wasn't long before another player, Gil George, hit the rail, winning $14,692.
The next one to lose all their chips was Brent Barfield, who wanted to catch a hand but failed to do so. After getting pocket jacks, he was pretty sure that the hand was his and decided to go all-in, only to stumble upon Albert Morrow's cowboys. Therefore, Barfield had to hit the rail as well, winning a total of $18,810 along the way.
Level 26 was pretty exciting as three players managed to lose all their chips during that time frame, the first of them being Ravi Raghavan, who managed to lose his entire stack bit by bit until he had nothing left. The player from Northbrook, Ill., managed to win a total of $24,458.
The next one in line was Jerod Smith from St. Louis, who managed to win $32,271. He was soon followed by Edward Dixon, a player from Detroit, who managed to snatch a total of $43,198, leaving the three best players to compete for the final prize.
After Morrow hit the rail in third place, winning $58,653, he left Ioakimides and Hall in heads-up play. Although Hall had a great chip advantage at the start, Ioakimides managed to double up on the first hand of play.
Nevertheless, he was not so lucky in the end and eventually lost the game, coming in second for a total of $80,761. He was close to winning his second gold ring but will have to wait for another tournament in order to take a shot at it.