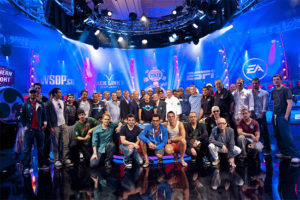 Big stakes are now usual in some events that are part of the World Series of Poker, but it wasn't always like that. One of the events that introduced high rolling to the WSOP was the first $1,000,000 Big One for One Drop, which many agree had a really special feeling.
It was one of the most anticipated WSOP events in the history of this competition, as all poker fans were eager to see how it would play out.
A total of 48 players applied, creating a huge prize pool. The lucky winner would get $18,346,673, which would become the largest ever WSOP prize — even larger than the one that Jamie Gold won in the WSOP Main Event, which was $12 million.
The players started the game, and the event soon narrowed down to the final table. The players sitting at the table were either some very wealthy individuals who were able to afford to throw a million dollars on a poker event or professional poker players.
There were two chip leaders at the start of the final table. One of them was Antonio Esfandiari, who was already popular for appearing in numerous poker shows and winning a lot of huge prizes. The other player was Sam Trickett, who had been on a mission to become a high roller.
The poker fans were prepared for a long final table session with a lot of tense hands and an unexpected turn of events. However, something quite different happened, as the final table narrowed down pretty quickly to the heads-up play.
Many expected players to be reserved when it comes to the number of chips they're willing to bet, as a lot of money was in the game. But it turned out that all players were pretty aggressive and loose, which was a bit strange but definitely more exciting.
That Hand Against Laliberte & Heads-Up Play
One of the most important hands in this event took place when Esfandiari faced Guy Laliberte, the founder of One Drop. Laliberte had a pair of queens, which were not enough for Esfandiari's ace-king.
Almost a third of all chips at that point were in the pot when the two players clashed, and that's when Esfandiari showed that he was really serious about winning the final prize.
The last opponent that Esfandiari had to face was Sam Trickett, who failed to stand up to him and had to settle for the second place. Esfandiari flopped trips, and Trickett's flush draw couldn't compete with that.
He continued his way to the top and ended the final table in just 85 hands. Therefore, he officially became the $1 million tournament champion.
Although he was already a very popular poker player, this victory was perhaps one of the most significant ones that made him enter the poker history books. From that point on, Esfandiari wasn't a TV poker player — he was a living legend.