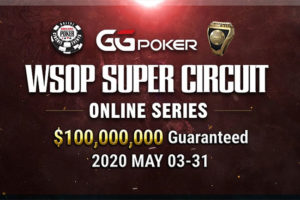 The online version of the World Series of Poker Circuit, called WSOP Online Super Circuit, is currently underway. Many events offered on GGPoker, and some of them come with a very interesting trophy — the legendary gold ring that Circuit players receive for winning a ring event.
The last player to do that is named Justin Zhu, who goes by the name "PetitFoxx" in online circles. Zhu managed to win Event #3: Deepstack Bounty Hunters $500k GTD and win a total of $75,954 for his effort.
Since this was a bounty event, he received a regular prize of $47,529. However, he managed to collect another $28,425 through bounties.
This was no easy task for the player from Taiwan, as he had to beat the field of 3,669 entries, with many of them being very experienced poker players. Nevertheless, the reward was more than sweet, as he officially became the third player of the inaugural WSOP Online Super Circuit tournament to win a gold ring.
The Tournament Action Overview
The event started at 2 pm EDT with late registration possible. After two hours, the guaranteed prize was broken, only to finally cap at $733,800. The action started moving quickly as soon as the registration was closed, and a couple of hours after that, the bubble burst.
After that, the action was even faster, and the field narrowed down from 611 to 50 in just four hours. Moreover, it took less than two hours after that to reach the final table.
On the other hand, the final table took almost an hour to complete. However, the longest round was three-handed play.
The first player to hit the rail was "unlucky2k11" from India, who earned a total of $5,266. They were followed by a Croatian player nicknamed "TonyGPT," who won a total of $7,520.
After that, it was time for "dudu2508" from Brazil to hit the rail, with a total of $9,587 in their pocket.
Sixth place was reserved for a Moroccan player who goes by the name "kingjouni20." They won a total of $13,083. Soon after that, a Chinese resident who uses the nickname "GOMEZOFESP0!R" hit the rail as fifth-placed and won $16,446.
The last player to lose all chips before the three-handed play commenced was "ArtjnDuer" from Austria. They won a total of $20,151 from the regular prize and the bounties.
The last three players fought for a long time, but it was the player from the UK who had to hit the rail first and leave the other two to fight for the final prize and the gold ring. The third-place player was using the nickname "ArchieAndrews." They won a total of $35,617, with $25,849 being part of the regular prize and the rest being from bounties.
The final player to hit the rail and settle for the second prize was "Brtz" from Russia, winning a total of $52,813.