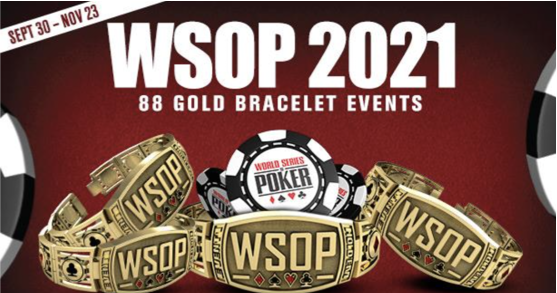 After almost 26 months of no WSOP poker action at the Rio All-Suite Hotel & Casino in Las Vegas, real money poker is returning home. Covid-19 has decimated the land-based poker industry, but everything is returning to normal. Perhaps one of the biggest pieces of news recently is that the World Series of Poker tournament's officials announced the entire schedule for the most important poker festival in the world.
The date has already been confirmed. The festival will start on September 30 and last until November 23. In other words, it won't take place on its standard date in July. Nevertheless, at least we can finally look forward to it. Let's take a look at the schedule.
88 Bracelet Events
There will be a total of 88 events where players will have a chance to receive a gold bracelet — the most important accolade in the poker world. The bracelet tourneys will have various buy-ins, which will range from $400 to $250,000.
Everyone who wants to register for these events will be able to do it online or in-person in August. However, there are several things you should take into account before registering.
First, the bracelet event to take place first in the festival will be called The Reunion, and it will require the buy-in of $500. The guaranteed prizes are $5 million.
High-rollers will also have an opportunity to take part in a wide array of events, including a $25K Heads-Up Championship and $50K PLO. There will be a Super High Roller event which will require the buy-in of $250,000. This is going to be the biggest non-charity event in the history of WSOP.
Finally, there will be a special bounty tournament reserved for the Poker Hall of Fame members, meaning we're going to see a lot of familiar names in Rio in September.
2021 WSOP Main Event
Like every other year, the 2021 edition of World Series of Poker will feature a $10,000 Main Event, and many poker fans already speculate that it's going to be the biggest such event in the history of WSOP.
There will be four starting flights that you can choose from. Day 1A will start on November 4, and Day 1B, 1C, and 1D every next day after that. The final table action is reserved for November 16 & 17.
Online WSOP
Like last year, we're still going to get some WSOP action in July, as there will be 33 online bracelet events for players in New Jersey and Nevada, which will take place on WSOP.com. However, international players will also have a chance to win a gold bracelet during that period (also 33 bracelet events) using GGPoker as the international platform. No online bracelet events are announced for the September schedule.
To sum up, the next couple of months are going to be exciting for the world of poker, and we'll see the WSOP action once again. Many events will be broadcasted live, including the final table of the Main Event, which is always exciting to watch.